This is an archived article and the information in the article may be outdated. Please look at the time stamp on the story to see when it was last updated.
One person was injured in an explosion at an apartment building in East Hollywood Friday morning.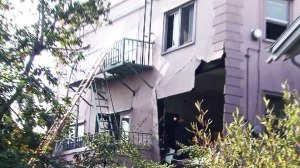 More than 50 firefighters responded to the blast, which also caused a fire in the building located in the 700 block of North Heliotrope Drive, according to Brian Humphrey of the Los Angeles Fire Department.
A natural gas line was involved in the fire, but the cause of the explosion was under investigation, Humphrey said.
Fire crews could be seen working inside one of the rooms through a gaping hole that was left in the side of the apartment building.
One man injured in the blast was taken to the hospital in unknown condition, Humphrey said.
It was unclear how many tenants in the building may be displaced.