This is an archived article and the information in the article may be outdated. Please look at the time stamp on the story to see when it was last updated.
EL SEGUNDO Calif. (KTLA) — Police were called to the Mattel Inc.'s corporate headquarters Tuesday after a plastic bottle exploded.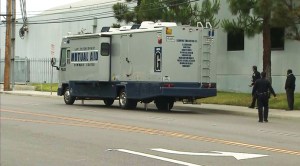 A security guard at the company's design studio at 2031 East Mariposa Ave. reported hearing what sounded like multiple explosions around 7 a.m., according to El Segundo police.
When authorities arrived, they found a plastic bottle had exploded.
Employees inside were evacuated while sheriff's arson and explosives investigators inspected the facility, but nothing else was found.
Police say they believe it was a prank but are still investigating.
No injuries were reported.