This is an archived article and the information in the article may be outdated. Please look at the time stamp on the story to see when it was last updated.
Firefighters have knocked down a blaze that broke out outside a recycling plant in Pomona on Wednesday morning.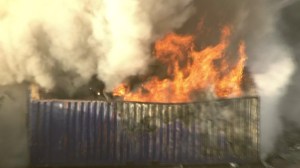 The fire broke out in the area of First Street and San Antonio Avenue shortly after 6:30 a.m., according to Los Angeles County dispatch supervisor Kyle Sanford.
There had also been reports of explosions, Sanford said.
About 30 minutes after the broke out, crews appeared to be gaining the upper hand, aerial video showed.
No structures were threatened, although there were several buses parked near the fire, according to the video.
Firefighters extinguished the blaze just after 8 a.m., a tweet from the L.A. County Fire Department's Public Information Desk stated.
No injures were reported in the fire, which was under investigation, according to the tweet.
#PomonaIC Reports Knock Down. Units will remain on scene for mop up and overhaul. No injuries. Cause under investigation

— L.A. County Fire Department (@LACoFDPIO) July 9, 2014
KTLA's Tony Kurzweil contributed to this report.