This is an archived article and the information in the article may be outdated. Please look at the time stamp on the story to see when it was last updated.
Authorities responded en masse after electrical vault explosions  shook the Old World Oktoberfest celebration in Huntington Beach on Saturday night.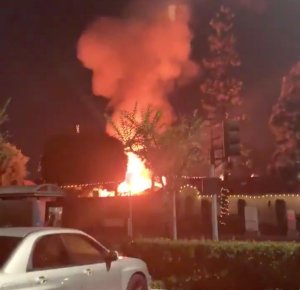 Two firefighters and two civilians were treated for injuries initially described as minor, Huntington Beach Fire Department officials said.
The incident was first reported as a transformer fire shortly after 8 p.m. at the celebration, centered at Center Avenue and Huntington Village Lane, according to Huntington Beach Fire Department Battalion Chief Jeff Lopez. While firefighters were investigating, the explosions occurred.
"As they went to open up an underground electrical vault where there was supposedly the issue going on, there was an explosion," Lopez said. "They reported a minute or so later another explosion and they called for help."
Hundreds of people were at the event at the time.
Witness Kyle Nelson said he heard and saw three large explosions in rapid succession emanating from the festival. He managed to catch one of them on camera. He wasn't sure what caused the blasts.
One employee working at the event told KTLA she smelled what she thought was gas shortly before the blasts.
The cause of the explosions remained under investigation, Lopez said.
No further details were immediately available.
KTLA's Alexandria Hernandez contributed to this report.
Huntington Beach Octoberfest 2nd of 3 explosions pic.twitter.com/YbWdR1670O

— Kyle (@kylen1972) October 6, 2019
Third explosion in #oldworldvillage #Oktoberfest i hope everyone is alright. @NBCLA pic.twitter.com/VNGQcuvNw9

— Koray 😷 (@mnckry) October 6, 2019