This is an archived article and the information in the article may be outdated. Please look at the time stamp on the story to see when it was last updated.
Roughly 100 peaceful demonstrators gathered outside the Los Angeles Police Department's Newton Division late Friday afternoon to demand answers in the fatal police shooting of Ezell Ford.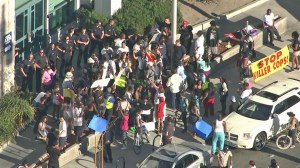 Protesters in front of the station, which is located at 3400 South Central Ave. (map), were shouting "hands up, don't shoot," according to a livestream being provided by a woman at the scene.
The rallying cry became popular with protesters angry over the shooting of Michael Brown, an unarmed 18-year-old whose death at the hands of police in Ferguson, Missouri garnered nationwide reaction.
A handful of demonstrators outside the LAPD station held up signs, and one large yellow banner read "Stop Killer Cops," aerial video over the scene showed. Some wore shirts that said "no justice, no peace," with the hashtag "#justice4ford" on the front.
At least ten uniformed LAPD officers were visible outside the doors to the station, with other officers in the surrounding area, according to the aerial video.
Family, friends and supporters of Ford then marched from the station through the streets of South Los Angeles, with officers closely following behind.
"The murders by the police of black and brown youth throughout this society has got to stop. The murder of Ezell Ford is completely illegitimate," one woman, who marched with the group and did not give her name, told KTLA.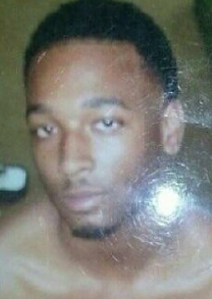 The crowd eventually came to a stop and dispersed after several miles.
The protest capped a week of demonstrations that began after Ford was shot and killed by LAPD officers on Monday evening in the Florence neighborhood of South L.A. The 25-year-old was complying with officer orders when the shooting occurred, family members told KTLA.
The department has stated that the man had ignored police instructions and tried to remove a handgun from an officer's holster during a violent struggle, according to an LAPD news release.
Lavell Ford, the victim's brother, attended Friday's demonstration outside the LAPD station and said that the group simply wanted answers from police.
"We are here looking for answers. My brother was shot down, he didn't deserve it," he said. "My brother was a good guy, and he did not deserve to die like an animal."
An investigation into the fatal shooting was ongoing.
KTLA's Melissa Pamer contributed to this report.
More Video: