This is an archived article and the information in the article may be outdated. Please look at the time stamp on the story to see when it was last updated.
One of the LAPD officers named Thursday as being involved in the fatal South Los Angeles shooting of Ezell Ford was a defendant in a federal civil rights lawsuit that claimed he was one of two officers who repeatedly held a man's head underwater in a violent encounter.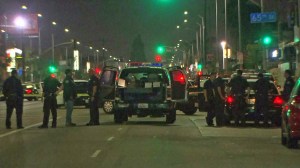 The Los Angeles Police Department released the names of the two Newton Division gang enforcement detail officers — Sharlton Wampler and Antonio Villegas — who police said both fired their weapons at 25-year-old Ford on Aug. 11 near 65th and Broadway.
The names were released after an investigation into "potential threats to the safety of the officers" and efforts to mitigate those threats, the department said in a statement.
Ford's death, coming soon after the shooting of unarmed teen Michael Brown in Ferguson, Missouri, has sparked multiple protests and calls for police accountability.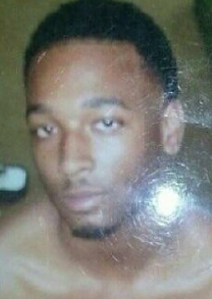 An LAPD account of Ford's death said he grabbed an officer, the pair fell to the ground and then Ford reached for the officer's gun before being shot by both officers. Family members described Ford as mentally ill and said he was complying with officer orders when they shot him while he was lying on the ground.
Wampler has been with the department 12 years, while Villegas has been with LAPD eight years, a department spokeswoman said Friday.
Wampler was named in a 2011 federal civil rights lawsuit over an August 2009 incident at a home on East 35th Street in South L.A., a few miles from where Ford was shot. The lawsuit was dismissed by a judge in December 2012.
The complaint alleged that Wampler was one of two officers who trespassed onto the property of the Hernandez family in South L.A. and then began "grappling" with two family members when they complained about a lack of warrant.
When one family member, Daniel Hernandez, accidentally sprayed water with a hose at one of the officers, Hernandez was pepper-sprayed or maced in response, according to the complaint.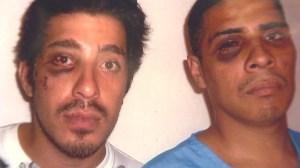 The officers then repeatedly pushed Hernandez's head under water in a children's pool in an "attempted drowning," the complaint alleged.
In an interview Friday, Hernandez said he feared for his life during the incident. He said he heard his parents and his daughter crying as the alleged attack continued.
"They were punching me, kicking me, putting my head under water," Hernandez said. "I thought I was going to die."
When Hernandez's parents begged for the dunking to stop, the officers allegedly said they could do whatever they wanted and that no one would believe the family's complaints.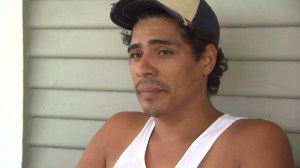 Two years later, Hernandez filed a lawsuit in federal court. Amidst those proceedings, he said, he received a letter signed by LAPD Chief Charlie Beck in February 2012 stating that the department's Internal Affairs Group was investigating "alleged misconduct."
Another letter sent the same day from Beck to Hernandez stated his complaint, filed with LAPD in January 2012, was being investigated and would "undergo several levels of review."
Hernandez was asked in one of the LAPD letters to contact a detective about the case. He never did because of the ongoing lawsuit, he said.
The lawsuit was dismissed in December 2012, federal court records showed.
The attorney who filed the suit on behalf of the Hernandezes told the Los Angeles Times that the case was dismissed because of conflicting witness statements. The attorney representing Wampler and Villegas said the lawsuit had no merit, according to the Times.
Asked about the lawsuit, an LAPD spokesman said Friday he was prohibited by law from discussing complaints against police personnel.
Ford's shooting was under investigation by LAPD Force Investigation Division detective. A hold was placed on coroner's autopsy results during the investigation.