This is an archived article and the information in the article may be outdated. Please look at the time stamp on the story to see when it was last updated.
Los Angeles police, city and county officials pleaded Thursday for witnesses to the August fatal police shooting of Ezell Ford  to come forward, and said a long-delayed autopsy report in the case would be released by the end of the year.
Mayor Eric Garcetti and Chief Charlie Beck spoke at an afternoon news conference, saying no direct witnesses have talked to police about the Aug. 11 shooting, which has prompted protests and calls for reform.
An autopsy report that has been withheld from the public during the investigation will be released some time in December, Garcetti said. Beck promised to comply with that "date certain" from the mayor.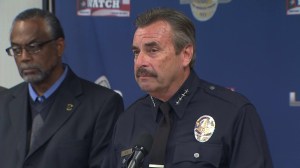 "We want the truth. We want witnesses' statements to be as untainted as possible," Beck said. "That is why we've held the autopsy. But we have no intention of denying the family or this community access to that autopsy forever."
Complete Coverage: Ezell Ford Shooting
Ford, described as mentally challenged by his family, was killed when two officers fired on near at 65th Street and Broadway.
Police said Ford reached for an officer's holstered weapon during a struggle, but family members said he was complying with officers' demands and was on the ground when he was shot multiple times in the back.
The county coroner's office has not released information on Ford's cause of death or wounds because police have placed a "security hold" on the case. Such holds typically only last a few weeks, a coroner's office official told the Los Angeles Times. More than 13 weeks have passed since Ford died.
The report contains "significant evidence" that could "add credibility" to witness statements, Beck said.
"There is a definitive reason why we hold this report," Beck said.
A recently passed South Central Neighborhood Council resolution urged L.A. City Councilman Curren Price to direct police to release the report, according to the Times. Price was at Thursday's news conference, as were LAPD Inspector General Alexander Bustamante and District Attorney Jackie Lacey.
On Thursday, Bustamonte and District Attorney Jackie Lacey said their office would welcome statements from those who do not want to talk to LAPD about the shooting.
"If you're reluctant to come forward to the Los Angeles Police Department, then I understand that," Beck said.
Earl Ofari Hutchinson, a civil rights activist and radio host who was slated to meet with LAPD officials before the news conference, said many in South L.A. fear the police and are afraid to come forward.
Hutchinson said the pace of the investigation has frustrated those who are awaiting answers about an incident that has produced contradicting accounts.
"We still don't have the autopsy report. I think it would answer a lot of questions," Hutchinson said before the meeting. "Where does the truth lie? We don't know."
The two officers who fired on Ford — Sharlton Wampler and Antonio Villegas — were placed on paid leave from their duties on Newton Division's gang enforcement detail.
The department has not explained what prompted the officers to approach Ford for an "investigative stop," and had not until Thursday provided a public update on the case since releasing the involved officers' names in late August.
Family members said officers in the area were familiar with Ford and knew he had mental issues. They contend in a $75 million wrongful death lawsuit filed against LAPD in September that Ford, who was not armed when police approached him, was harmless.
The death occurred just days after the high-profile fatal shooting of Michael Brown by a police officer in Ferguson, Missouri.
Anyone with information on Ford's shooting was asked to call one of the following numbers:
LAPD's Force Investigation Division, 213-486-5230;
DA's office Justice System Integrity Division, 213-974-3888;
Office of the Inspector General, 213-482-6833; or
Crime Stoppers (anonymous), 800-222-8477.
We want the truth & need your help. Please call #LAPD 213-486-5230 #LADAOffice #LAPDInspectorGeneral to provide info on the #EzellFord case.

— Chief Charlie Beck (@LAPDChiefBeck) November 14, 2014
More Videos: