This is an archived article and the information in the article may be outdated. Please look at the time stamp on the story to see when it was last updated.
A pilot ejected before an F-16 fighter jet crashed into a building at the end of a runway near March Air Reserve Base on Thursday, authorities said.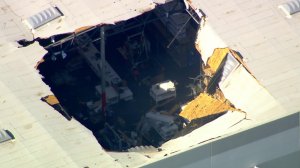 The crash took place about 3:30 p.m. at the air base in Riverside County, U.S. Air Force Maj. Perry Covington said. The pilot managed to eject from the aircraft and was receiving medical treatment, according to the Riverside County Sheriff's Department. The pilot was hospitalized in stable condition and not seriously injured, officials said. Twelve people who were inside the tilt-up building when it was struck were treated for injuries or exposure caused by debris, Cal Fire Capt. Fernando Herrera said. They were also decontaminated with a water hose due to possible exposure to hazardous chemicals. Military officials reported five injuries on the ground. The reason for the discrepancy in numbers was not clear.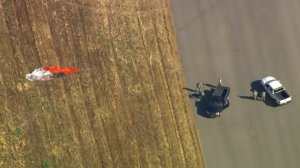 Aerial video from Sky5 showed a large hole in a commercial warehouse-type building. There were no signs of a fire at the building, in the 22200 block of Opportunity Way. A small blaze touched off by the crash was quickly extinguished, March Air Reserve Base Deputy Fire Chief Timothy Holliday said. The fire was largely contained by the building's fire suppression sprinkler system, Herrera added. Officials evacuated nearby businesses as a precaution. Officials told the Associated Press that the multimillion-dollar fighter jet was equipped with standard armaments, prompting additional caution from those working at the scene. The F-16 belonged to the 114th Fighter Wing, based out of Sioux Falls, South Dakota, Air Force Reserve officials said in a
written statement
. Military officials said the pilot belonged to the 144th Fighter Wing based out of the Fresno area. The pilot was conducting a training mission for the North American Aerospace Defense Command at the time of the crash, officials said. "A board of qualified officers will investigate this mishap," the statement read. "Additional details will be provided as they become available." Col. Melissa Coburn said no update on the conditions of the injured were available Thursday night. "Our prayers are with the sole pilot who was on board … and for the people on the ground who were injured," she said. A parachute and an ejector seat could be seen sitting in a nearby field. California Highway Patrol officials shut down both directions of the 215 Freeway between Harley Knox Boulevard and Cactus Avenue as first responders continued working at the scene. Sheriff's officials asked the public to keep clear of the area, which is southeast of Riverside and a little less than 60 miles east of downtown Los Angeles.
Here's the scene where an F-16 fighter jet crashed into a building near March Air Reserve Base in Riverside County. The 215 Fwy is shut down in both directions. Details: https://t.co/pIyQXcCorG pic.twitter.com/1uBVypn61a

— KTLA (@KTLA) May 16, 2019
https://twitter.com/March_ARB/status/1129220050672480257
🚨Plane crash🚨 into building, pilot ejected and being medically evaluated. Please stay away from area and clear from emergency vehicles until directed otherwise. Updates to follow.

— Riverside County Sheriff's Dept (@RSO) May 16, 2019
Full freeway closure northbound and southbound I-215 between Harley Knox and Cactus due to an aircraft crash. Please avoid the area and use an alternate route.#Riverside #Closure #traffic pic.twitter.com/rFB92Ntz00

— CHP – Inland Communications (@InlandChp) May 16, 2019
KTLA's Matt Phillips and Nidia Becerra contributed to this report.