This is an archived article and the information in the article may be outdated. Please look at the time stamp on the story to see when it was last updated.
As Los Angeles faces surging costs for lawsuits over bicycle crashes, city crews have started to remove and replace badly broken pavement traveled by cyclists, a Bureau of Street Services official told lawmakers Wednesday.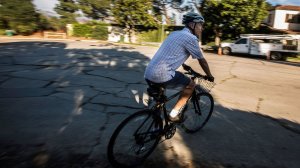 At a City Hall hearing on the battered state of bike infrastructure, Assistant Director Greg Spotts said that in June, the bureau got funding to do a one-time, comprehensive inspection of bike lanes, routes and other designated "bikeways." A few months later, funding was granted for six new positions to maintain bikeways in the city, he told lawmakers.
Spotts said the bureau fixed more than 300 areas and found an additional 200 locations where the pavement needed to be completely removed and replaced, a type of repair that cannot be carried out by a pothole truck. As of Monday, the bureau had fixed 19 out of the 200 damaged locations, using some of the $700,000 it was granted for overtime, Spotts told a City Council committee.
But that work will continue to creep along at a slow pace if the city has to rely on its existing staff, Spotts said.
Read the full story on LATimes.com.