This is an archived article and the information in the article may be outdated. Please look at the time stamp on the story to see when it was last updated.
Authorities announced recently that they were seeking additional victims of a man who allegedly posed as a doctor and operated a fake cancer treatment clinic in Northern California.
Vincent Gammill, 69, was arrested earlier this month at his Richmond business on suspicion of practicing medicine without a license, dependent adult abuse, and furnishing dangerous drugs without a license. The arrest followed a monthlong joint-investigation between the Ventura County Interagency Pharmaceutical Crimes Unit and the Contra Costa County Sheriff's Office.
Investigators began looking into Gammil's practice in June after a 49-year-old women with late-stage cancer reported that she had been harmed and scammed out of thousands of dollars by a man who claimed to be able to treat her illness, according to a news release from the Ventura County Sheriff's Office.
She told deputies at the Thousand Oaks East County Sheriff's Station that she had seen Gammill's website in 2009, and had planned on seeking treatment from him if traditional medicine failed to cure her cancer.
The Sheriff's Office stated that Gammill runs a practice called The Natural Oncology Institute, Inc.
Its website bills the Berkeley-based center as "a premier educational resource and client advocacy organization focused on helping people with cancer."
On the site, Gammill is billed as once being a "pharmaceutical designer and consultant who chose to work with natural products and methods whenever possible. He became well known in the international clinics for the effectiveness of certain cancer vaccines he developed."
The victim first traveled to Gammill's Richmond office for a consultation in June 2015. During the visit, Gammill examined the woman and explained how he would treat her illness.
He then demanded she pay him $2,000 for his services, which included 16 hours of consultation and treatments that included multiple plastic baggies. The bags contained various powders, empty capsules, vials filled with liquids, commercially produced medications that were past their expiration date, and a baggie filled with dirt, the release stated.
Gammill then provided instructions on how to prepare the items for consumption. The victim told deputies that the medicine gave her a burning sensation, but that Gammill had said it was a "good" thing since it meant the ingredients were active, according to the release.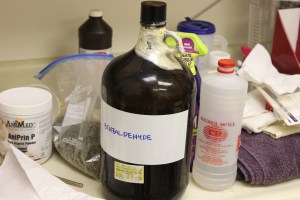 An investigation was launched shortly after, during which time they discovered Gammill did not have any medical training. He was arrested on July 9, Ventura County authorities said last week.
Gammill was booked at Contra Costa County jail. He is scheduled to appear in Ventura County Superior Court on Aug. 31.
Investigators have asked anyone else who may have been scammed to contact the Ventura County Interagency Pharmaceutical Crimes Unit at 805-383-8700 or by emailing pharm.tip@ventura.org.
Possible victims in Northern California have been asked to call the Contra Costa County Sheriff's Office Detective Bureau at 925-313- 2600.