This is an archived article and the information in the article may be outdated. Please look at the time stamp on the story to see when it was last updated.
The family of an 8-year-old boy who was fatally struck by a garbage truck in Newport Beach has filed a lawsuit against the city trash hauler and its driver on Wednesday.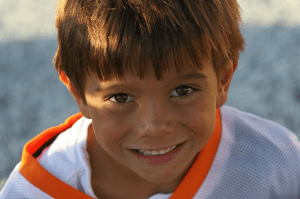 The law firm of Aitken Aitken Cohn has filed a lawsuit on behalf of the young boy's parents, Patrick and Bernardette McCann.
Their son, Brock McCann, was hit by a trash truck owned and operated by CR&R Inc., on May 25, 2016.
Brock, who was a third-grade student at Newport Beach Heights Elementary School, was riding or walking his bicycle home from school along 15th Street when the truck struck him at an intersection with a small cul-de-sac called Michael Place, police said.
He was pronounced dead at the scene, according to Newport Beach Police Department Lt. Randy Querry.
Orange County coroner's officials determined that Brock died as a result of vehicular blunt force trauma, according to the Los Angeles Times.
Roberto Zermeno Pedroza, the driver of the truck, was making a right turn onto 15th Street at the time of the incident. He told police that he was supposed to bring his vehicle to a complete stop before turning right, the family's attorneys stated in a press release.
Police told KTLA at the time of the incident that the driver was visibly upset at the scene.
"The driver stopped immediately. The driver obviously very distraught as well. He's cooperating fully with investigators from the beginning," Newport Beach police Lt. Jeff Brouwer said.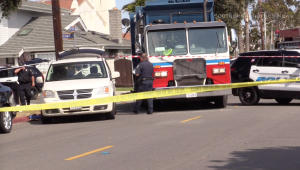 An internal CR&R video allegedly shows Pedroza looking only to the left, and not to the right, as he drives through the crosswalk without stopping, according to the family's attorneys.
There is no regular bus service to Brock's school and all the students arrive and leave either by foot, bicycle, skateboard or by private vehicles, often contributing to "intense" traffic, attorneys added.
There were also no bike lanes on 15th Street in either direction, attorneys said.
 Brock often rode to and from school with his parents and would frequently ride home on his own when his older brother, Jack, received additional tutoring after school.
Patrick and Bernardette McCann have become advocates for the safety of children going to and from school since their son's death last year.
"Without taking a look at the whole traffic situation and making monumental changes, this will happen again. It is just a matter of time," said the McCanns in a statement. "The purpose of this lawsuit is to prevent something like this from happening again."
The McCann family is seeking damages, costs of Brock's funeral and burial expenses, as well as pre-judgement and post-judgement interest.