This is an archived article and the information in the article may be outdated. Please look at the time stamp on the story to see when it was last updated.
Nearly one week after a knife-wielding 22-year-old man was shot and killed by police in Van Nuys, his family and friends held a rally Saturday saying police should not have killed him.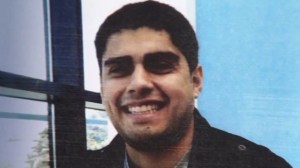 Multiple rally attendees identified Josue Fuentes as the man who was shot and killed by Los Angeles Police Department officials last Sunday near Haskell Avenue and Victory Boulevard (map).
Fuentes was a Pierce College student who had a full-time job as a medical assistant, according to family attorney Mark Balali, who also described him as a "good kid" with no criminal record.
Family and friends of Fuentes held posters stating, "you think you have authority to kill a minority," "your job is to protect not kill," and "LAPD murdered an innocent."
"We're here today to show that he actually had a family who cared about him," Fuentes' cousin Monica Rivas said at the rally. "The police are a bunch of cowards to do what they did. Our family is broken and it hurts."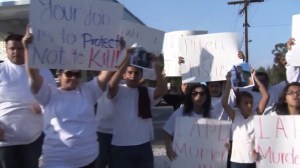 Officials said at the time that they responded to reports of a man armed with a knife who intended to harm himself.
Police followed the man down a street, "trying to get him to relinquish the weapon," but when man became "aggressive" with the officers they opened fire, LAPD Lt. Alan Hamilton said last Sunday.
LAPD officials did not immediately respond for comment Saturday.
Family and friends questioned the officers actions, and Balali was seeking additional witnesses and possible cellphone video of the incident.
"I just want to say to the police, that there's always another way," Fuentes' friend Devon Zimlinghaus said tearfully. "It doesn't always have to end in a bullet. They took away one of my oldest friends."