This is an archived article and the information in the article may be outdated. Please look at the time stamp on the story to see when it was last updated.
Family members identified Thursday a 7-year-old boy who was fatally struck by an ice cream truck on a residential street in the Broadway-Manchester area of South Los Angeles the previous night.
The incident was reported around 7:15 p.m. Wednesday in the 200 block of East 97th Street (map), Los Angeles Police Department Officer Norma Eisenman said.
Jamarion Thomas was identified as the young boy by family members.
Police said the boy was riding a bicycle alongside the ice cream truck, and was possible holding onto it, when he fell off the bike and was run over by the vehicle, LAPD Sgt. Timothy Colson said.
Thomas's grandmother, Lanora Satterwhite, claimed the boy was not on a bike, and was instead walking a motorized scooter because it did not work.
She was inside a local residence when the incident occurred.
"When I got to the door everyone was saying he's dead, he's dead, he's dead," Satterwhite said. "When I made it to my second gate, ladies grabbed me and said 'mama no he's sleeping.' I knew what was wrong then."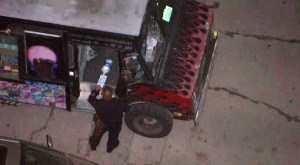 The injured child was taken to Harbor-UCLA Hospital where he later died in surgery, Colson said.
Charges were not expected to be filed against the ice cream truck driver, police said Wednesday.
The driver and truck were assaulted by unknown individuals following the fatal incident.
The truck's front window was broken, video showed. The driver's condition was unknown.