This is an archived article and the information in the article may be outdated. Please look at the time stamp on the story to see when it was last updated.
Family members and investigators on Sunday identified a little girl whose body was discovered in a duffel bag at the bottom of an embankment in Hacienda Heights last week, and announced two "persons of interest" are being detained in connection with her death.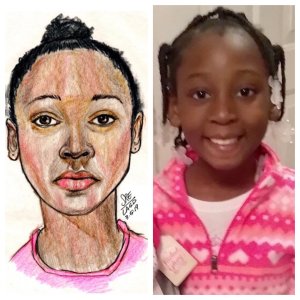 Trinity Love Jones, 9, was the young victim who was found dead about 10 a.m. Tuesday along a hiking trail in the area of Colima Road and Hacienda Boulevard, near the Hsi Lai Buddhist Temple, her father, Anthony Jones, told KTLA. The Los Angeles County Sheriff's Department confirmed the girl's identity Sunday afternoon and described her as a Los Angeles County resident. "Investigators have detained two persons of interest in this case and they are actively continuing their investigation," Deputy Tracey Koerner of the Sheriff's Information Bureau said in a
written statement
. No further details about the development were released. Officials declined to discuss how the girl died. "Although the Coroner's Office determined the death to be a homicide, the cause of death is being withheld," Koerner said. More information was expected to emerge in the coming days.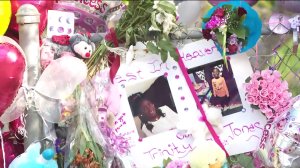 "As additional facts are established and verified, investigators anticipate that additional information will be available for release during a press conference later in the week," Koerner said. Homicide detectives and the community have been seeking answers ever since the girl's body was found partially inside of a duffel bag by county maintenance workers. There were no obvious signs of trauma, according to the Los Angeles County Sheriff's Department. Family members arrived at a memorial of candles, flowers, balloons, stuffed animals and photos at the trail where the girl was found upon learning of her identity. Antonio Jones said Trinity Jones was his youngest daughter. He learned of her death through a phone call.
"Words can't explain what I'm feeling right now," he said. "I just want answers. I just want justice." "She was just the best," he said. "Full of character, full of life, full of joy." No further details regarding the circumstances of the girl's death, or the ongoing investigation, were available Sunday. Anyone with information is asked to contact the Sheriff's Homicide Bureau at 323-890-5500. Tips may also be submitted anonymously to
L.A. Regional Crime Stoppers
at 800-222-8477.