This is an archived article and the information in the article may be outdated. Please look at the time stamp on the story to see when it was last updated.
Family members and friends have identified one of the Marines missing following a U.S. military aircraft crash off the coast of Australia as Ruben Velasco from Southern California.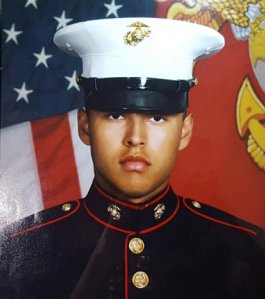 Velasco's parents said uniformed officers came to their home over the weekend to inform them the search for their son was being called off and was now considered a recovery.
"We are all in disbelief and cannot fathom the loss of our son. The grief my wife has to bear is immeasurable. Richard Velasco, Ruben's father, is equally devastated. My heart is broken for our family's loss," read a GoFundMe post asking for help with funeral expenses.
Velasco had celebrated his 19th birthday only a few days before the crash, according to the post.
He was part of the 2016 graduating class at West Covina High School, where he also played on the football team.
The school's varsity football coach, Corey Tello, said he felt awful when he heard of Velasco's death.
"We know he's in the service, serving our country, but you just don't expect something like that to happen," Tello told KTLA.
Christian Northey, who is now a senior at the school and played alongside Velasco for three years, described the news as "heartbreaking."
"It's disbelief," Northey said. "It's still really hard to believe that he's not with us."
The wreckage of the MV-22 aircraft, which crashed off Australia's east coast on Saturday, was located Monday, CNN reported.
"The aircraft involved in the mishap had launched from the USS Bonhomme Richard (a Navy amphibious assault ship) and was conducting regularly scheduled operations when the aircraft entered the water," the Marine Corps said in a statement.
Twenty-three of the 26 personnel on board the aircraft were rescued, the Maine Corps said.
The three missing Marines have not been officially identified by the Corps, but all of their families have been notified, CNN reported.
Another one of the Marines has been identified as Ben Cross of Bethel, Maine, by family members.