This is an archived article and the information in the article may be outdated. Please look at the time stamp on the story to see when it was last updated.
Family members on Monday identified a 3-year-old boy who was struck and killed by a vehicle in the Vermont Vista neighborhood of South Los Angeles the previous evening.
Eidan Cortez was walking with his mother on a sidewalk in the area of West 92nd and South Figueroa streets around 5 p.m. Sunday when, according to a woman who witnessed the crash, a driver lost of control of the vehicle and hit the child.
She said the force of the collision knocked the boy into the gated yard of homeowner Christopher Taylor. Eidan was rushed to a local hospital where he was pronounced dead.
"As a parent, your heart goes out to [the mother] because nobody – no parent ever wants to have to bury their child, especially a baby," Taylor told KTLA.
Aiden's grief-stricken mother could be seen crying outside Taylor's home on Monday, in front of a makeshift memorial devoted to her slain little boy.
"His mother is 3 months pregnant and this is taking a heavy toll on her," stated a GoFundMe campaign dedicated to raising money for the victim's family. The page initially identified the boy as Aiden, before the spelling of his name was updated.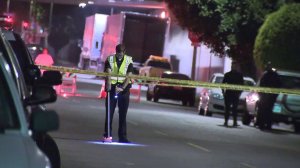 In the immediate aftermath of the crash, Taylor and others attempted to save the toddler's life and tried to hold the driver until first responders arrived.
"The neighbors got involved and stepped in and were able to stop him from getting away," the homeowner said. "He made several attempts, which is another sad issue … he was trying to get away and making matters worse."
Taylor also noted that it appeared the driver was under the influence of something.
"He was not in his right mind, it was obvious," Taylor said. "He was … under the influence of some kind of substance or whatever it was."
The Los Angeles Police Department released few details about the incident, but identified the suspect to KTLA as George Milton Jr., a resident of Gardena.
L.A. County booking records indicated the 32-year-old was arrested around 7:50 p.m. Sunday and booked into jail later that night.
His bail was set at $130,000, according to inmate records.