This is an archived article and the information in the article may be outdated. Please look at the time stamp on the story to see when it was last updated.
A family gathered to mourn its beloved patriarch on Wednesday, one day after he was shot dead outside his home in a drive-by shooting that authorities suspect is gang-related.
Jose Raul Corrales, 69, was watering the garden at his home near the corner of Summit Street and Canal Avenue when he was fatally struck by gunfire just after 3 p.m. Tuesday.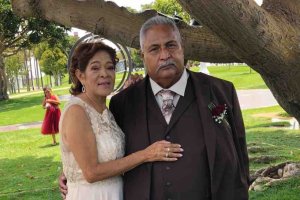 Paramedics pronounced him dead at the scene, outside the house that he'd lived in for 25 years.
On Wednesday night, candles marked the spot on the sidewalk where he fell to the ground as his family held a vigil, praying the rosary in dedication to him.
Corrales leaves behind a wife, five daughters and 16 grandchildren.
Estefani Corrales, his youngest daughter, said she was in the family home Tuesday when she heard gunshots.
"You will never understand what you took from us," Estefani said, addressing the shooter. "He was the most loving father, grandfather. He raised five girls with such a loving heart."
Estefani, who's expecting her second child, said her dad was always there to help her throughout her pregnancies.
Another daughter, Rebeca Rodriguez, also had a message for the gunman.
"If you're watching me, just know that you took everything from us," she said. "Not only my father, you took my friend."
Raul's wife, Maria, thanked everyone for coming out, and apologized for not being strong enough to address the media directly. She also said he was her everything.
"They were one," Rodriguez told KTLA. "Now, she's in there having a rough time. She's sick."
Estefani said her father's sudden death was especially tough to grapple with "because he was such a good man."
"He didn't deserve this," she said.
Long Beach police are still searching for leads in the case. Although the investigation is in its early stages, officials don't believe Raul was the intended target.
The grandfather was outside the home with "a group of male subjects" when shots were fired from a light-colored sedan with three or four people inside, the Police Department said in a news release.
Later on, investigators discovered another man in a nearby vehicle had also been struck by gunfire.
That victim transported himself to the hospital, police said. His condition was unknown.
Although detectives have not named any suspects, they believe the shooting was gang-related.
Raul's family has set up a GoFundMe campaign to help raise funds to cover his memorial costs.
Anyone with any information can contact detectives Michael Hubbard and Adrian Garcia at 562-570-7244. Anonymous tips may be submitted via Crime Stoppers at 800-222-8477 or via www.LACrimeStoppers.org.