This is an archived article and the information in the article may be outdated. Please look at the time stamp on the story to see when it was last updated.
A local family was without a home Tuesday after answering a Craigslist ad for a rental property in Riverside that turned out to be a scam.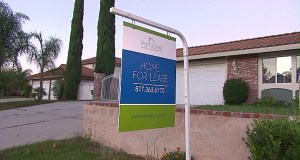 Mark Ames, an above-the-knee amputee who walks with a prosthetic leg, and his wife Sharon, a disabled Navy veteran, rented a home on Aug. 20 through an ad they found on Craigslist.
"It was everything it was supposed to be, except it wasn't," Mark Ames said.
Ames told KTLA he dealt with the purported landlord entirely by email and was issued what he thought was a legitimate lease for a year.
"When someone gives you the lease you expect them to be the owner. Not someone make it up," Ames said.
On Wednesday, a woman identifying herself as the real property manager showed up at the home with a police officer and told them they had to leave immediately because they were trespassing.
"We don't know where to go or what to do at this point," Ames said.
The couple went to a nearby Motel 6 where they are now staying with their three children.
"With our money gone it makes it very hard to get into someplace else," Ames said.
Ames asked KTLA to share his personal contact information in case those who can help want to reach out. His email address is xmarkx71@gmail.com and his phone number is 310-406-7423.