This is an archived article and the information in the article may be outdated. Please look at the time stamp on the story to see when it was last updated.
A family of five was among the victims of an alleged DUI driver who drove into a group of pedestrians leaving a Redondo Beach church, parishioners confirmed Thursday.
Martha Gaza, the 36-year-old mother in the Torrance family, was killed. She was a preschool teacher at St. James Catholic Church, along with other the pedestrians, was leaving a Christmas concert held at the church just before the crash.
Gaza's young son Samuel, a kindergartener at St. James Catholic School, was in critical condition after he was pulled from under the tire of a vehicle, parishioners and a witness said. The crash occurred about 8 p.m. Wednesday on Pacific Coast Highway at Vincent Street.
Her husband, Glen, was also at a local hospital Thursday.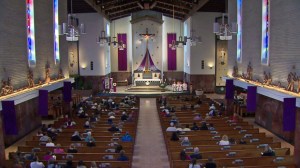 The condition of the family's other two children was not immediately known. Police said five of the 11 pedestrians who were hit were children, and three of those children were stable with minor injuries.
A woman who answered the door at Martha Gaza's family home said relatives had left to avoid the news media. The three children all attend St. James Catholic School, which is in Torrance but is affiliated with St. James Catholic Church.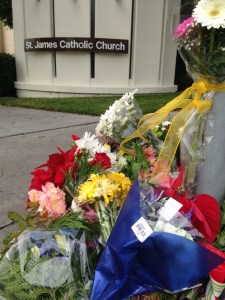 Two other Torrance women — both in their 80s — were killed in the crash. They were identified by the coroner's office and police as Mary Ann Wilson, 81, and Saeko Matsumura, 87.
Both women had grandchildren at the school, a spokeswoman for the Archdiocese of Los Angeles told the Los Angeles Times. The Archdiocese's media office did not return a call and emails from KTLA seeking more information.
Matsumura's adult daughter Karen was also injured in the crash. She was in stable condition at Torrance Memorial Medical Center, a hospital spokeswoman confirmed.
The church's Monsignor Michael Meyers said he did not know the two grandmothers but knew Gaza and the other parishioners and children who were hurt.
A service was held at St. James on Thursday to honor the victims.
"May these beautiful people in that instant (have) heard the voice of Jesus say, 'This day, you shall be with me in paradise,'" parishioner Anne Balderas said outside the church.
Driver Margo Bronstein, 56, was arrested on suspicion of felony vehicular manslaughter while intoxicated. She was due in court in Torrance Friday.
Police said "at a minimum" the Redondo Beach woman was under the influence of prescription drugs.
St. James Catholic Church has set up the "St. James Redondo Beach Victims Fund" to help with funeral and other unexpected costs associated with the tragedy such as medical bills.
Click here for more information.
Condolences can also be sent to:
St. James Catholic Church
Attn: Msgr. Michael Meyers
415 Vincent St.
Redondo Beach, CA 90277
More Video: