This is an archived article and the information in the article may be outdated. Please look at the time stamp on the story to see when it was last updated.
The 8-year-old boy who was shot dead inside his special needs classroom was a happy child who had a genetic disorder his family wants the world to know about.
Jonathan Martinez was near his teacher, 53-year-old Karen Smith, when her husband Cedric Anderson walked into her North Park Elementary School classroom and opened fire Monday morning.
Jonathan died after being airlifted from the San Bernardino campus to Loma Linda University Medical Center.
On Tuesday, the school district's superintendent said his family wanted to raise awareness of Williams syndrome, a genetic condition that Jonathan was born with, in memory of the boy.
"Unlike disorders that can make connecting with your child difficult, children with Williams syndrome tend to be social, friendly and endearing," Superintendent Dale Marsden said, apparently reading from a description on the Williams Syndrome Association website.
"Parents often say the joy and perspective a child with this syndrome brings into their lives had been unimaginable," Marsden continued.
Children with the syndrome have developmental delays, learning disabilities and medical problems including cardiovascular disease.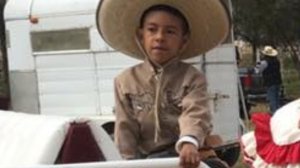 Jonathan had had heart surgery, Marsden said.
At the same time, those with the syndrome often are highly social and have "striking verbal abilities" and an affinity for music, the superintendent said.
"Affected individuals have outgoing, engaging personalities and tend to take an extreme interest in other people," the National Institutes of Health states.
About 1 in 10,000 people across the globe — including 20,000 to 30,000 in the U.S. — have the disease, according to the Williams Syndrome Association.
On its Facebook page Tuesday, the association mourned Jonathan: "This is such a senseless tragedy and we offer our sincere condolences. The WSA knows that we will all want to lift this family up to provide the emotional support they will need, so we will try to get their address so our community can send condolences if they would like."
Jonathan was the family's only son, said Marsden, who met with the boy's family early Tuesday.
A GoFundMe page created by his cousin Brianna Lopez has raised more than $30,000 as of midday Tuesday.
Donations related to the syndrome will be coordinated by the San Bernardino City Unified School District.
A 7 p.m. candlelight vigil will be held at North Park Elementary Tuesday.
Flowers, candles and balloons were left at the campus in a growing memorial for Jonathan and Smith.