This is an archived article and the information in the article may be outdated. Please look at the time stamp on the story to see when it was last updated.
The family of an Arleta man is pleading for help after they say he was detained and is being held for deportation because of a nearly 20-year-old offense despite being a legal permanent resident.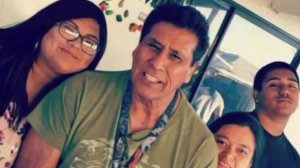 Jose Luis Garcia, 62, was outside his home early Sunday when he was detained by U.S. Immigration and Customs Enforcement agents, his daughter said.
"I heard my dad screaming out my name through my window. I looked out my window and he was in handcuffs in front of our house by eight officers," Natalie Garcia told KTLA.
She said the ICE agents told her they had a warrant for her father's arrest, but when she asked to see it, no warrant was shown.
"Then they told me it's not a criminal warrant. It's an administrative warrant for a misdemeanor he had in 2001," Natalie Garcia said.
The agents told her the warrant stemmed from a domestic violence dispute from 2001, an offense Garcia pleaded no contest to, records show.
In a statement, a U.S. Department of Homeland Security spokesperson confirmed Garcia's arrest and said he has "past criminal convictions that make him amenable to removal from the United States."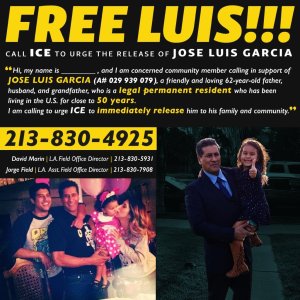 Lori K. Haley said in the statement that Garcia is in ICE custody "pending removal proceedings" and a judge will determine whether or not he has a lawful basis to remain in the United States."
"All of those in violation of the immigration laws may be subject to immigration arrest, detention and, if found removable by final order, removal from the United States," the statement read.
Garcia, who is the family's sole provider, was granted legal status in the 80s during Ronald Regan's Immigration Reform and Control Act, his family said.
He came from Mexico about 50 years ago and works several jobs, including driving for Uber.
"It never crossed my mind," Natalie Garcia said about her father being detained. "We've been seeing it on the news. I think for us, we were thinking it has to happen to people who aren't legally here. Or who don't have the legal status that my parents have. But It's not. It's happening to everybody, even if you do have a green card and you're legally here, it's happening to them, too."
Garcia's family is urging people to call ICE and demand that he be released. In a flyer that also includes numbers for the ICE's Los Angeles field office, Garcia is described as a husband, father and grandfather.
It is unclear where Garcia is being held.