This is an archived article and the information in the article may be outdated. Please look at the time stamp on the story to see when it was last updated.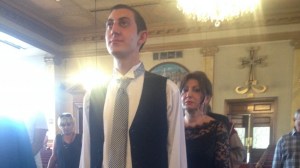 A relative performed a lamb sacrifice to protect a 20-year-old man from harm and evil just days before his body landed on a 5 Freeway sign after being ejected in a fatal car crash in Glendale, according to a fundraising page set up for him.
Richard Pananian died on Friday morning. He was allegedly driving his 2004 Ford Fiesta at a high rate of speed and passing vehicles on the freeway's right shoulder when his car hit the rear of a truck and veered out of control, the California Highway Patrol said at the time.
The Fiesta then overturned and rolled over multiple times.
As the car went up an embankment, Pananian was ejected about 20 feet into the air. His body landed on the Colorado Street exit ramp sign overhead
He appeared to not be wearing a seat belt at the time, according to a CHP official.
In the GoFundMe page, a cousin revealed that just days before his death, a lamb sacrifice had been performed to protect the young Burbank man.
"A week ago today on 10/25 the family had done what is called a 'matag' or a lamb sacrifice for Richard to protect him from harm and evil," Armen Kardashian wrote in the post. "In the Armenian culture sacrifices are done when someone escapes death, as Richards life was once spared."
He did not delve further or provide any additional information about how exactly the young man's life had been previously spared.
Kardashian then continued: "I find it ironic that 5 days after this offering to God, not only did God choose to take this young mans life, but decided to make such a spectacle out of it."
Pananian was described by his cousin as being exceptionally friendly, giving and compassionate, and having "a beautiful soul."
"He loved to work on, with, around cars, was never afraid to get his hands dirty. He was a type of person that would remember you, and call you to say hey I hope your (sic) having a good day. Completely selfless and gave to others before taking himself," Kardashian stated in the post.
He also recalled his cousin always wore a five-point harness whenever in a car, and never needed to be reminded about it.
Pananian's family is seeking to raise $50,000 to remove "any financial burden this family is facing during these traumatic times."
In addition to funeral expenses, the money would go toward a memorial and any cost related to damages, the post stated.