This is an archived article and the information in the article may be outdated. Please look at the time stamp on the story to see when it was last updated.
The parents of a man who was fatally shot by an off-duty LAPD officer at a Corona Costco earlier this year said they have taken "another blow," after the announcement that no charges will be filed against the officer in the case.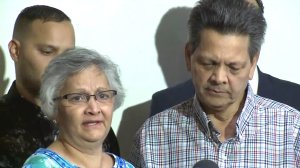 The family's attorney said Thursday that they will be moving forward with a federal civil rights lawsuit against the officer, Salvador Sanchez, and the city of Los Angeles.
On Wednesday, a grand jury declined to bring charges against Sanchez after a monthslong investigation by the Corona Police Department and the Riverside County District Attorney's Office.
Sanchez was off duty with his family and was shopping at the Costco on June 14 when he was hit from behind by Kenneth French, 32, who was at the store with his parents Russell and Paola French, authorities said.
No words were exchanged before the incident, but multiple things appeared to have been shouted between the two men after the hit.
The officer was holding his baby at the time, and his attorney said his client believed his life and his son's life was in danger when he discharged his weapon.
French's parents said they tried to intervene and told the officer their son had an intellectual disability. Kenneth French had schizophrenia.
Sanchez fired 10 shots, hitting Kenneth French four times. Paola French was hit in the stomach, while her husband was struck in the back. Both were hospitalized in critical condition.
On Wednesday, the DA's office also released surveillance video from inside the store that had been previously blocked from public view by a judge.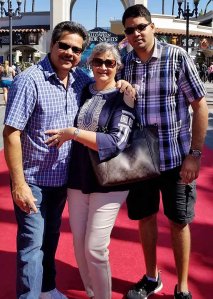 "If it was anyone else other than a police officer who had shot three unarmed people in a Costco, including shots to the back, from a distance, they would have been detained, arrested, brought to jail and prosecuted within 48 hours," the family's attorney, Dale Galipo said during a news conference Thursday.
He said that the decision not to prosecute raises "serious questions" about how the case was presented to the grand jury.
Galipo said he was also troubled by Sanchez's changing story, explaining that the officer first said he had lost consciousness after being struck, then said he thought shots were being fired inside the Costco. The attorney said that argument was "absurd" and that Sanchez was not fit to be a police officer.
Galipo added that he and the French family believe authorities have access to better video that has not been released because it clearly shows Sanchez was in the wrong.
Kenneth French's parents and brother said they were disappointed and heartbroken over the decision not to prosecute Sanchez.
"Our family has just taken another blow and we have lost complete faith in the U.S. justice system," Russell French said.
"I pray to God that no child or family comes in the path of Salvador Sanchez," Paola French said. "Salvador Sanchez was clearly in the wrong as he was not in imminent danger to fire 10 shots at an entire unarmed family and that is clear in the grainy, poor quality video provided to us."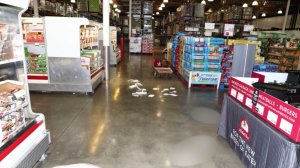 Kenneth French's brother, Kevin, questioned what his parents did to deserve getting shot. He said that some of Sanchez's shots missed and that more innocent people could have been hurt.
To Riverside County District Attorney Mike Hestrin, Kevin French said: "You are telling us and the public that a police badge is a permit to shoot and kill without any consequences or accountability."
Kevin French said he and his wife went to the Costco after the shooting and talked to employees who watched the surveillance video from the incident. He said they told him the video showed "cold-blooded murder."
Kevin French said that his brother's birthday is coming up and his family will be visiting his gravesite instead of celebrating.