This is an archived article and the information in the article may be outdated. Please look at the time stamp on the story to see when it was last updated.
The city of Long Beach has reached a $2-million settlement with the family of a mentally disabled man who was shot and killed by police in a 2015 encounter at an arcade.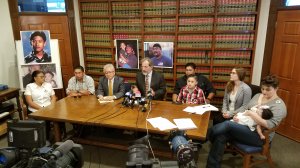 Two officers responded to Looff's Lite-A-Line after customers complained that Mharloun Saycon, 39, had a pocket knife and workers needed help escorting him out. When the officers arrived, they ordered Saycon to drop the knife. They both struck him with an electric stun weapon and one hit him with a baton before the other officer fatally shot him.
Dan Stormer, an attorney representing the family, said the knife was on the man's lap and there was "no indicator that he's in the least bit dangerous." He called the shooting an unreasonable use of force.
The city contends the officers acted lawfully and reasonably, but said it settled the case to avoid the risk of a larger payout at trial.
Read the full story on LATimes.com.