This is an archived article and the information in the article may be outdated. Please look at the time stamp on the story to see when it was last updated.
The family of a 71-year-old ice cream vendor who was violently robbed Wednesday night has started a fundraising page to help him retire.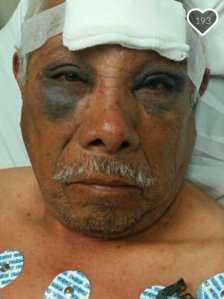 David Juan Martinez was pushing his cart about 7:45 p.m. near the intersection of Lemp Avenue and Vanowen Street when two men stopped him. Because he doesn't speak English, Martinez thought the men wanted ice cream, his daughter in law, Laura Rodriguez, told KTLA.
Eventually, Martinez got a bad feeling and tried to push his cart around him when he was shoved to the ground and punched three times, Rodriguez said. The men allegedly took $80 from his pockets, the week's earnings.
After the men left the area, Martinez, who is the father of seven and grandfather of eight, got up, walked a little under a mile to his apartment, cleaned up and went to bed.
His children discovered his condition Thursday morning and took him to a hospital, where they discovered he had a fractured nose. He also has two black eyes and a gash on his forehead. Martinez's family has filed a police report and the incident is under investigation.
This is apparently the third time he has been attacked during his 30-year career.
Rodriguez said her family wants Martinez to retire, but he wants to return to work.
"I don't want him to continue putting his life at risk," she wrote on the fundraising page.
"He sells ice cream and he loves it, but it's time for him to start taking care of himself. Please help me raise enough money so he can retire."