This is an archived article and the information in the article may be outdated. Please look at the time stamp on the story to see when it was last updated.
Family members, friends and police on Tuesday were asking for the public's help in locating a Hollywood producer who has been missing for a week.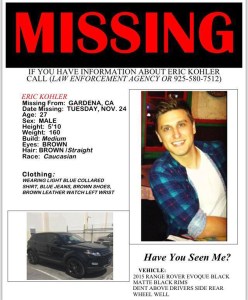 Eric Anthony Kohler, 27, was last seen around 4 p.m. Nov. 24 in the 1700 block of El Segundo Boulevard in Gardena, according to a news release from the Los Angeles Police Department.
His 2015 black SUV was last spotted traveling north on Western Avenue from Imperial Highway, police said, in the unincorporated Westmont area near South L.A.
Lt. Joseph Sanchez of the LAPD's Pacific Division confirmed earlier in the day that the man has been missing, and that his disappearance was being investigated. Foul play was not suspected, the lieutenant said, adding the Kohler had no known history of disappearing.
Kohler was reported missing after he did not come home for Thanksgiving.
"We have no idea where he's at. That's not his type of personality," his father Tony Kohler told KTLA in Palms, where his son lives. "He loves his job, he loves his family, he loves his friends. He literally disappeared off the face of the Earth. We're thinking something happened to him in that parking lot."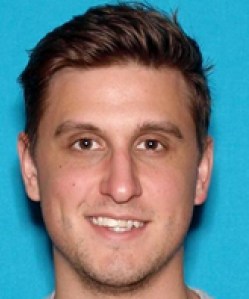 His parents sobbed as they told KTLA that they were trying to find their son, who they described as big-hearted and kind.
"Eric, we love you, and we're going to find you, and we are trying everything thing we can, honey," his mother Sheryi Kohler said. "Stay strong. I hope we get to you soon."
Detectives were investigating a tip that Kohler may have shown up on surveillance video taken at a South L.A. Food 4 Less market since he was reported missing, according to Sanchez.
Investigators were trying to obtain the video, he said.
Kohler works as a visual effects producer, according to his Internet Movie Database page. His film credits included "The Avengers," "X-Men: Days of Future Past," "Pirates of the Caribbean: On Stranger Tides" and "The Hangover Part III."
His most recent movies included "Goosebumps" and "San Andreas," both released this year.
Family and friends have circulated a flier on social media, hoping the public can help them locate him.
Kohler was described in the flier as Caucasian, 5 feet 10 inches, about 160 pounds, with brown hair and brown eyes. He was last seen wearing a light blue collared shirt, blue jeans and brown shoes, and had a brown leather watch on his left wrist.
His vehicle was described in a flier distributed on social media as a black 2015 Range Rover Evoque, with matte black rims, and a dent above the driver's side rear wheel well. The vehicle had a license plate No. of 7KIM941, according to LAPD, which described the vehicle as a Land Rover.
Anyone with information about Kohler's whereabouts was urged to contact Detective K. Thomas of the LAPD's Missing Person Unit at 213-996-1800. Callers should dial 877-527-3247 during nonbusiness hours or on weekends.
KTLA's Melissa Pamer contributed to this article.