This is an archived article and the information in the article may be outdated. Please look at the time stamp on the story to see when it was last updated.
A man who was shot and killed by a resident in Canyon Country on Friday night during an alleged attempted break-in was killed as the result of a "misunderstanding," according to family members.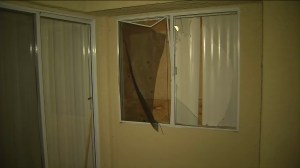 The resident called 911 about 9:10 p.m. Friday to report that he had shot someone trying to break into his unit, located in the 26000 block of Isabella Parkway, according to the Los Angeles County Sheriff's Department.
He told sheriff's officials the man was at the window trying to break in, and ignored his repeated commands to leave. The resident grabbed a gun and opened fire, shooting the man multiple times, a news release from the department stated.
The man died at the at the scene.
Later that night, outside of the scene of the fatal shooting, his relatives told KTLA that their uncle — who also lived at the complex — had been drinking that night. He was possibly disoriented, and likely thought he was getting back into his own unit "because all of the buildings looks the same."
The family members did not want their faces shown on camera, nor did they want to give their full names.
In the interview, they said he didn't speak English and wouldn't have been able to understand the resident's orders. The man also had difficulty seeing out of one eye.
"He did have a couple drinks, maybe got mad and broke in the window, which he thought was his room. He broke the exact same window, too," one of the nephews said. "He just wanted to go home, that's it."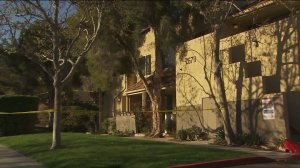 His relatives were across the street at the time and heard the gunshots, about six in total, he added.
"It was all a misunderstanding," said another nephew.
The 44-year-old man was a husband and father to three children, two sons and a daughter, according to family members. They declined to identify their uncle.
The man's niece described him as a "good man."
"He didn't mean any harm. He did make a mistake," she said.
The resident was detained following the shooting while an investigation into the deadly incident continued. He was later released after questioning.
A sheriff's official on Saturday said he was unsure whether any charges would be filed in the case.
KTLA's Chris Wolfe and Steve Bien contributed to this story.