This is an archived article and the information in the article may be outdated. Please look at the time stamp on the story to see when it was last updated.
Update: Doris Lee Doss was found after walking into a police station, the Los Angeles Police Department said Thursday. She was in good condition. 
Original story: Authorities and family members are searching to leads after an 83-year-old woman with dementia was spotted at a bank three days after she went missing in South Los Angeles.
Doris Doss withdrew money in her checking account at the Wescom Credit Union branch located at 2871 W. 120th St. in Hawthorne last Saturday, Feb. 3, according to her family.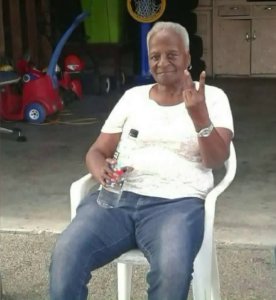 The mother of eight first went missing on Jan. 31, her family said.
That morning, she had gone to the Martin Luther King Jr. Community Hospital in Willowbrook for blood pressure tests. But she disappeared later that afternoon after returning to her son's home in the 11200 block of South Broadway in South L.A.
Doss, a retired day care worker, was being cared for in turns but her eight children as she struggles with dementia.
There was no trace of her until three days later, when a Wescom bank employee recognized her photo from missing person flyers and alerted her family.
Doss has history of wandering away but usually comes home within a few hours, her daughter, Karen Doss, said.
"I am extremely desperate," Karen told KTLA. "I have no idea. And that's the part that's scary, because we don't know."
Loved ones posting have spent several days posting flyers throughout the area in hopes someone might spot her, and they're working to get surveillance video from the bank, hoping it will contain clues.
"I find it very hard to believe that she just walked out and vanished and no one saw nothing," another relative, Tracey, said.
The family has also filed a report with the Los Angeles Police Department.
Doris also responds to "Granny" or "Auntie Peggy," her family said.
She is 5 feet 4 inches tall, weighs around 120 pounds and was last seen wearing blue jeans, black shoes, a black and white leopard shirt and a red sweater.
During the search Wednesday night, a family member got a phone call saying Doss was at Martin Luther King Jr. Community Hospital again. But when the family went to the hospital, they found out the woman who had been admitted to the emergency room was not Doss.
"The lady sort of looked like my grandmother, and she answered to all the names that was on the flyer, but that's not her, so our quest still continues," a granddaughter told KTLA Wednesday night. "We're going to find you, granny, we're going to bring you home, I promise you," she said.
Anyone with information on her whereabouts can contact family members at 562-755-9521, or LAPD via 213-996-1800.