This is an archived article and the information in the article may be outdated. Please look at the time stamp on the story to see when it was last updated.
The father of a 2-year-old boy who was allegedly killed by his mother's boyfriend last summer plans to sue the Los Angeles County Department of Children and Family Services and county Board of Supervisors, alleging social workers ignored evidence the boy was being abused.
Damien Ventura died at Ronald Reagan UCLA Medical Center in Westwood on July 3, 2018, days before his third birthday.
Josafat Bonifacio, 27, had been taking care of his girlfriend's 2-year-old son and his own 4-year-old daughter when someone called 911 that evening. Damien was rushed to the hospital with multiple injuries, prosecutors said.
Bonifacio was charged with murder in January in connection with the fatal assault on Damien.
The boy's father, Oscar Ventura, held a press conference Friday with his attorney Brian Claypool outside the Stanley Mosk Courthouse in downtown L.A., detailing their case against the county and its child services agency.
Claypool blames Damien's death on "ineffective, incompetent Los Angeles County social workers," along with DCFS' refusal to enact change after the torture deaths of two other boys — 8-year-old Gabriel Fernandez and 10-year-old Anthony Avalos — whose abuse had been reported to the agency.
In the months leading up to the toddler's death, not only Oscar but also the owner of a daycare center Damien attended, the boy's babysitter and grandmother — his mother's mom — had all told DCFS either that the toddler had been hit in the face or that Bonifacio was striking him, Claypool said.
Oscar said his son first told him of the abuse in January 2018, and he decided to record the shocking confession on his cellphone as proof. In the video, bruising can be seen on the boy's face as he says, "Joe slapped me in the face."
"That day he was really sad," Oscar said of his son. "He was scared, he was afraid. When he saw me, he came and told me."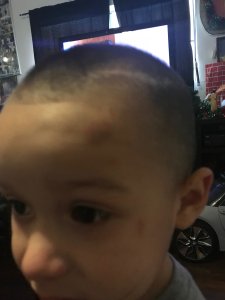 The father said he took his son to the doctor the next day, and that's when social workers were called to investigate.
But Oscar said that when he showed a social worker the video, she dismissed the accusation and told him he was coaching Damien to say such things.
"I don't know what kind of proof they wanted for them to see that my son was actually telling the truth," Oscar said. "Now that he's not here no more, now that's when they believe what I was saying."
Oscar said he only saw the social worker twice and she never pressed the issue further. "She never called me, she never contacted me to see what was going on," he said. "And that was it."
The boy's grandmother had separately told DCFS her daughter was unfit to take care of Damien and reported bruising on the boy's cheeks, while the daycare owner told officials Damien was not safe with his mom and her boyfriend and needed protection, Claypool said.
The daycare worker also allegedly reported that the toddler consistently said, "No Joey."
"His only lifeline is DCFS," Claypool said. "They toss him under the bus, and he's dead."
DCFS should have, at the least, hired a forensic psychologist to speak with Damien, the attorney said. But, according to him, the agency never moved to investigate the various allegations.
"This is about a conscious disregard by county officials and leadership to not make the necessary change to prevent little boys like this from being murdered after they have reached out and cried for help," Claypool said.
Following Fernandez's death in 2013, a blue-ribbon panel issued a series of reform recommendations to dramatically rework DCFS' transparency and accountability. But even after a second, high-profile torture-murder case involving Avalos, nothing has changed, Claypool said.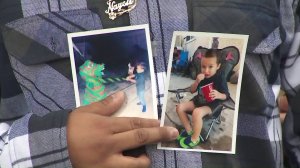 In both Fernandez's and Avalos' case, the child's mother and boyfriend were convicted of torture and murder. Claypool believes there are other, similar cases that have not been brought to the public's attention.
Criminal negligence charges have also been filed against four social workers in connection with Avalos' death, the Los Angeles Times reported.
Oscar said he feels like he did everything he could for his son, but the system failed him.
The last time he saw Damien was two days before July 3, a Sunday night on which they celebrated the third birthday that Damien would never reach.
When Damien's mom came to pick him up the next morning, the boy didn't want to go, Oscar said.
"It's something I will never forget," he said. "He gave me that look, telling me, 'Don't let me go.' But it was her week, so I told my son, 'You have to go with mom.' "
"I should have just kept him with me," Oscar continued. "I just followed by the law, and look what the law did. It took my son. That's really painful."
Bonifacio remains in custody on $2 million bail and is scheduled to appear in court on March 14.