This is an archived article and the information in the article may be outdated. Please look at the time stamp on the story to see when it was last updated.
The family of a 13-year-old girl who was removed from life support after hanging herself in her bedroom has sued administrators of the school she attended, alleging campus officials did not do enough to address the severe bullying she endured.
Rosalie Avila was an eighth-grader at Mesa View Middle School, where her family alleges administrators were made aware that Rosalie was bullied relentlessly. Her loved ones held a press conference outside the school Monday to announce the wrongful death lawsuit they are filing against the Yucaipa-Calimesa Joint Unified School District.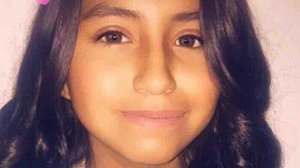 "She had so much to give to this world. She was so wonderful," her father, Freddie Avila, said as he tearfully addressed the crowd. "She's going to be in my heart until the day that I die."
Family members say Rosalie attempted to take her own life on Nov. 28. She was later declared brain dead on Dec. 1 and taken off life support Dec. 4.
Rosalie hanged herself after bullies relentlessly taunted the teen, telling her "she had ugly teeth, that she was ugly, a whore, a slut, and had sexually transmitted diseases," according to a news release from late last week that announced the Monday news conference.
Her classmates allegedly circulated a video depicting "what an ugly girl looked like and what a pretty girl looked like and used a picture of Rosalie to portray the ugly girl," the release stated. "In her suicide note, Rosalie apologized to her parents for being ugly."
Nearly three weeks later, the alleged perpetrators were still harassing their daughter in death, according to her parents. One recent social media post laced with expletives read, "Rosie is still annoying me from the grave."
Rosalie's loved ones are concerned that other students could be affected by bullying if reforms aren't instated, according to the family's lawyer, Brian Claypool.
Claypool alleges the Avilas repeatedly contacted the district about the verbal abuse their daughter was subject to and told administrators that she had begun to cut herself.
Rather than assuring her safety, Claypool said, officials attempted to bury the issue. According to Claypool, schools treat bullying as taboo because they lose state and federal funding if they have to kick a student out.
"School districts treat money as more important than the safety of children," he said.
The Yucaipa-Calimesa district issued a press release Monday, saying the school community is mourning alongside the Avila family and officials remain committed to students' safety and well-being.
"We strive every day to be a safe, supportive and engaging learning environment," the release states. "We will continue to raise awareness and work with students and the community to support our children. The issue of suicide awareness and prevention is very important to discuss and address as a community."
The district said it is cooperating an investigation being conducted by the San Bernardino County Sheriff's Department and has ordered its own internal review.
Meanwhile, Rosalie's parents attended a memorial for their daughter that was held Monday evening at the Set Free Church and expressed gratitude for the community's support.
"These people come here and comfort you and … give you hugs, condolences and they're praying for you," said Charlene Avila, the girl's mother.
Ultimately though, the Avilas hope they can prevent other parents from having to go through their painful and heartbreaking ordeal.
"We don't want to see no more kids hanging themselves. We don't want to see no more kids get bullied," Freddie Avila said. "We don't want nobody to get hurt from these bullies anymore."
Claypool has vowed to take the issue to the national level, where he says he plans to work with Congressman Adam Schiff — a Democrat whose California district in Los Angeles County stretches from West Hollywood to Pasadena — to introduce Rosie's Law. The proposal calls for school districts to require written reports of all reported bullying incidents, immediately notify parents of such incidents, treat verbal abuse the same as physical abuse and set up campus suicide prevention centers.
Incidences of suicide are on the rise for all age groups in America, including teens, according to the National Institute of Mental Health.
For youth ages 10 to 14, suicide is the third leading cause of death, according to the most recent statistics available from the Centers for Disease Control and Prevention. It is unclear how often bullying plays a role.
Those in crisis can call the 24-hour, confidential National Suicide Prevention Lifeline at 800-273-8255.