This is an archived article and the information in the article may be outdated. Please look at the time stamp on the story to see when it was last updated.
Fire officials were mopping up hot spots Saturday afternoon after a fast-moving blaze burned 32 acres and prompted the full closure of the northbound 5 Freeway in Castaic, officials said.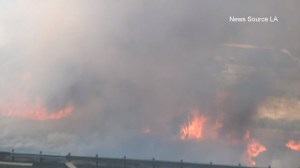 Some 115 firefighters responded to the second-alarm blaze, the Los Angeles County Fire Department tweeted around 3:12 p.m.
The fire grew to about 10 acres "with rapid rate rate ratedepartment tweeted.
It continued to grow to 32 acres before being fully contained by around 6 p.m., according to another tweet.
Pictures of the blaze showed flames visibly approaching the freeway and sending large plumes of smoke into the air as fire officials walked across a mostly carless freeway.carless freeway.carless freeway.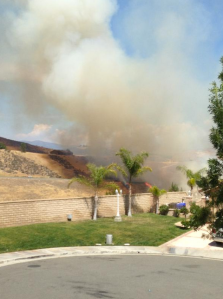 The fire prompted a full closure of the northbound 5 Freeway at Lake Hughes Road as well as two "lower crossover" lanes on the southbound side, the California Highway Patrol tweeted.
All lanes were reopened by 6:36 p.m., CHP tweeted.
A fixed-wing aircraft was initially requested to help battle the blaze, but was cancelled when firefighters reported no active flames were visible.
Los Angeles County Fire Department officials worked with Los Angeles Fire Department firefighters, and officials with the U.S. Forest Service, Angeles National forest and California Highway Patrol to extinguish the blaze, according to a tweet.
Fire officials walk across the 5 Freeway in Castaic as smoke billows from a fire on June 13, 2015. (Credit: News Source LA)