This is an archived article and the information in the article may be outdated. Please look at the time stamp on the story to see when it was last updated.
The father behind the wheel of the car that plunged into the water at the Port of Los Angeles in San Pedro on Thursday, killing his 8 and 13-year-old sons, called the crash "a really bad accident."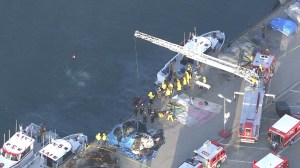 Ali Elmezayan described the chain of events that led to the tragic crash, telling KTLA he stopped the car at Berth 73 so he, his wife, and two sons could take in the view.
"I try to park next to the ocean," Elmezayan said.  But he said the car "didn't stop." "I don't know how this happened," he said.
The incident was reported about 6:10 p.m. Thursday, according to Los Angeles Fire Department spokesman Brian Humphrey. 911 callers said a woman in the water was screaming for help.
"When I woke up, I see water everywhere," Elmezayan said.
His window was open slightly he said, allowing him to swim out. His wife was in the passenger seat and followed him out.
"I don't know how I stayed alive," he said.
When rescuers arrived they found Elmezayan and his wife in the water, but their two boys were still inside the submerged car.
"I want to go back to my kids but the car (went) really deep," he said.
Elmezayan said he could no longer see the car.
"As it settled … to the bottom … it disturbs all the silt so the visibility is very difficult," LAFD Deputy Chief Daren Palacios said at a news conference Thursday night. "They had a very hard time extricating the second patient out."
All four family members were transported to hospitals, where 13-year-old Abdelkrim Ali Elmezayen died Thursday night.  His 8-year-old brother lived through the night, but was pronounced dead around 2 p.m. Friday afternoon.
He had not been identified.
After being interviewed by investigators, they were not charged in connection with the incident, Sgt. Jim Talmage of the Los Angeles Police Department's Harbor Division said Friday morning.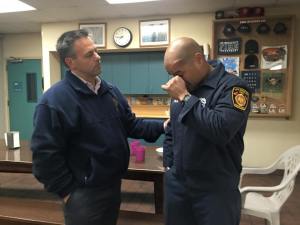 The crash was still being investigated.
A photo posted on City Councilman Joe Buscaino's Facebook page shows him with LAFD Firefighter Miguel Meza, who jumped into the water while the car's four occupants were in distress, according to the caption.
Meza, his head down, appears to be wiping away a tear as the councilman comforts him by placing his hand on the firefighter's arm.
"This man is a true #hero in the City of Angels and I am so proud of him!" Buscaino wrote.
Correction: The deceased victim's last name was misspelled in an earlier version of this report. The story has been updated to reflect the change.
More video: