This is an archived article and the information in the article may be outdated. Please look at the time stamp on the story to see when it was last updated.
Multiple lanes on the eastbound 60 Freeway were closed in South El Monte following a fiery crash that left two people dead Sunday morning, officials said.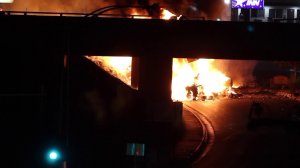 The multivehicle crash was reported just before 4:30 a.m. on the freeway at Peck Road, according to California HIghway Patrol Officer Elizabeth Kravig.
A KTLA viewer captured video of the scene which showed the fiery aftermath of the crash involving a big rig carrying cantaloupes and a BMW.
The preliminary investigation revealed that the big rig collided with the BMW, causing that second vehicle to spin out of control and end up facing westbound in the eastbound shoulder of the freeway, CHP Sgt. Eddie Perez told KTLA.
The crash also caused the semi-truck to plunge off the freeway and onto the road below, video and photos showed. The driver of the big rig was possibly attempting to slow down or stop to avoid the BMW, and may have been unable to do so because it takes much longer to stop compared to a passenger vehicle, Perez said.
The drivers of both vehicles were pronounced dead at the scene, authorities said. Their identities were not released.
South El Monte resident Stephen Mroz was at a nearby fast-food restaurant when he heard the "tremendous impact" of the crash.
"Everything was on fire right away," he said. "I mean, instantly everything was burning. It was a big ball of flame."
A SigAlert was issued due to the crash. By early Sunday afternoon, the No. 5 lane on the eastbound side of the freeway and the Peck Road on-ramp were still closed, according to CHP.
As for the opposite side, all westbound lanes remained open. Crews were hoping to have all lanes back open by the afternoon hours.
Below the freeway, both directions of Peck Road were also closed as the cleanup continued.
The fatal collision remained under investigation.
2 dead in a car v semi accident on 60 E in South El Monte at Peck Rd. The semi fell off the freeway onto Peck Rd. @LaurenLyster @KTLA @KTLAMorningNews pic.twitter.com/FvUXYTc6a0

— Chris Gierowski (@tepall14) September 2, 2018