This is an archived article and the information in the article may be outdated. Please look at the time stamp on the story to see when it was last updated.
A fatal crash involving multiple-vehicles on the 405 Freeway prompted officials to shut down the majority of the southbound lanes through Westminster early Wednesday.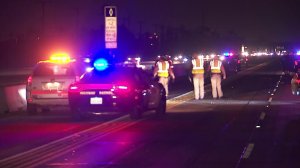 The crash occurred about 2 a.m. near Westminster Boulevard and involved at least four vehicles, according to the California Highway Patrol's traffic incident log.
At least one of the vehicles overturned and a fire was reported following the crash, according to the CHP.
One person, who has not been identified, was killed in the crash.
All southbound lanes were initially blocked by the crash, but the slow lane was reopened about 3:19 a.m. The carpool lane and three other lanes remained closed.
There was no immediate word on any other possible injuries resulting from the crash.
The cause is under investigation.