This is an archived article and the information in the article may be outdated. Please look at the time stamp on the story to see when it was last updated.
The westbound lanes on the 10 Freeway were temporarily shut down in Montclair following a fatal wrong-way crash Thursday morning.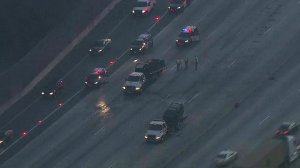 The deadly crash was reported about 3:16 a.m. at Monte Vista Avenue, according to the California Highway Patrol's traffic incident website. At least one person was killed in the head on collision, and another person was taken to a local hospital with unknown injuries, the Los Angeles Times reported.
One person was arrested following the crash, but it was unclear if the person was the behind the wheel of the vehicle that was going in the wrong direction, the newspaper reported.
Witnesses called the CHP and reported a driver in a dark-colored SUV was driving eastbound in the westbound lanes for at least two miles, according to the Los Angeles Times.
The CHP confirmed it was a fatal accident when issuing a SigAlert for the closure of all westbound lanes just after 4:30 a.m.
Traffic was being diverted off the freeway at the Monte Vista off-ramp and then let back on the freeway at the Monte Vista on-ramp, according to the CHP.
All lanes were reopened at 6:50 a.m., according to the CHP.
Check back for updates on this developing story.