This is an archived article and the information in the article may be outdated. Please look at the time stamp on the story to see when it was last updated.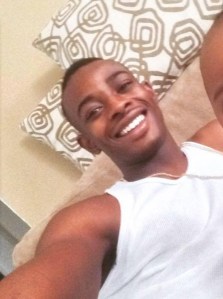 A 19-year-old father was killed, and three people were wounded when a gunman opened fire in Long Beach Monday night.
The shooting took place in the 1200 block of East 17th Street and was reported to police about 8:45 p.m., said Long Beach Police Sgt. Megan Zabel.
The four victims were standing in the street when someone either walked up or drove up and opened fire, Zabel said.
Arriving officers found the four men had all been struck by the gunfire, Zabel said.
One of the men, later identified by family members as 19-year-old Delon Jackson, died at the scene, said Lt. Paul Baum with the Police Department.
"He was full of life. Didn't bother nobody … This is heartbreaking," Jackson's aunt said.
Jackson was the father of a 1-year-old son, according to his aunt.
"He just celebrated his son's first birthday party this past Saturday," she said.
Two of the victims were in stable condition following the shooting and another was in critical condition, according to Baum.
Investigators did not have a description of the shooter and it was unclear if the shooting was gang-related, Baum said.
Jackson's aunt said he was not gang affiliated and the shooting was a senseless, random act.
Authorities are hoping someone will come forward and help identify the shooter, but Jackson's aunt is worried no one will help.
"It doesn't work that way, too many people are scared of being considered a snitch, so we have to let the detectives do their job … that's all we can do," she said.