This is an archived article and the information in the article may be outdated. Please look at the time stamp on the story to see when it was last updated.
A father and son killed in a plane crash near Camarillo over the weekend have been identified, officials said Monday.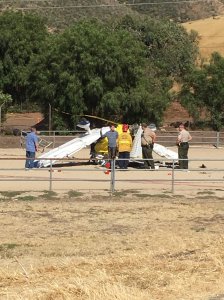 James Harlan, 57, and his son, Dylan Harlan, 15, were declared dead at the scene, according to the Ventura County Medical Examiner's Office. They were residents of Calabasas.
The crash was reported about 4 p.m. on private property in the 2700 block of Marvella Court, the Ventura County Fire Department reported.
The father and son were the only two people on the plane, which crashed on the edge of the Santa Rosa Valley after taking off from Camarillo Airport. No other injuries were reported.
Witnesses said the plane was flying just above treetops in the area before it went down in a horse arena, according to the Ventura County Sheriff's Office.
There was also evidence that the plane hit high-voltage power lines in the area, but they were still intact.
It is unclear what led to the crash and the incident remains under investigation by the Federal Aviation Administration and the National Transportation Safety Board.
Sunday's crash occurred just days after another plane crashed in Ventura County. At least one person died in a plane crash in the hills northwest of Ventura on Thursday.