This is an archived article and the information in the article may be outdated. Please look at the time stamp on the story to see when it was last updated.
A father accused of taking his 2-year-old daughter during a supervised visit at The Grove appeared in court Wednesday after being charged with kidnapping and child stealing.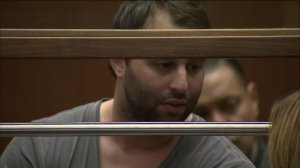 Jack Perry faces up to 14 years in state prison if convicted, according to the Los Angeles County District Attorney's Office.
During a hearing at the Foltz Criminal Justice Center in downtown L.A., a judge postponed Perry's arraignment to Monday and set his bail at $1 million.
Police had previously said the suspect would not be able to bail out due to unrelated charges against him in Florida.
The kidnapping and child-stealing charges came a day after Jack Perry and his daughter, Lucia Perry, returned to the L.A. area from Palm Springs after the Los Angeles Police Department said a witness tipped had off investigators.
The 31-year-old British national was accused of kidnapping the little girl on Christmas Eve at the Fairfax-area mall. The court-appointed individual supervising the visit "lost sight" of the pair, and immediately notified LAPD patrol officers at the mall.
On Monday night, the pair was found at a Palm Springs hotel, which Jack Perry was accused of renting under a fictitious name.
Lucia Perry was located inside and appeared to be unharmed. She was reunited with her mother, Elise Perry, Tuesday morning.
"I've never felt so happy in my life," Elise Perry said at a news conference that day. "I can't say thank you enough."
Authorities in Miami-Dade County, Florida, have indicated they want to extradite Jack Perry for unresolved warrants.
KTLA's John A. Moreno contributed to this report.