This is an archived article and the information in the article may be outdated. Please look at the time stamp on the story to see when it was last updated.
A 54-year-old father faces four felony counts after he allegedly drove while intoxicated with his two teen sons — who he is accused of furnishing alcohol to — and crashed into a Metro Expo Line train in Santa Monica, officials said Tuesday.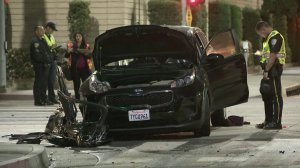 Anthony Manual Beltran Sr., of Connecticut, allegedly ran a red light at the intersection of Lincoln Boulevard and Colorado Avenue around 12:20 a.m. on Wednesday, April 18, causing his vehicle to collide with the train, the Los Angeles County District Attorney's Office said in a news release.
Beltran and his two 16-year-old sons all suffered injuries in the incident, officials said. The exact extent and nature of their wounds was unclear, though Beltran is charged with causing great bodily injury.
Prosecutors allege the father's blood alcohol content was at least .20 percent at the time.
Footage from the scene shows a black Kia sedan with a mangled front end. The Metro train suffered some damage as well, though it appeared mostly cosmetic.
Officials did not say whether there were passengers aboard the train at the time, though the Expo Line does provide service through 1:40 a.m. in the area.
Beltran was arrested around 4:30 p.m. the next day, April 19, in Santa Monica, inmate records show.
He has since been charged with driving under the influence of an alcoholic beverage causing injury, driving with a .08 percent or more blood alcohol content causing injury and two counts of child abuse, according to the DA's office.
He additionally faces two misdemeanor counts of giving an alcoholic beverage to a person under 21.
The 54-year-old pleaded not guilty to all charges on Monday, prosecutors said. He is set to return to court on May 16.
He could face up to 30 years in state prison if convicted as charged.
The Connecticut resident was being held on $410,000 bail, DA's officials said.
Santa Monica police are continuing to investigate the crash.