This is an archived article and the information in the article may be outdated. Please look at the time stamp on the story to see when it was last updated.
A man who led police on a high-speed pursuit on the streets of Santa Ana died Sunday night in a crash that also left his 9-year-old daughter critically injured.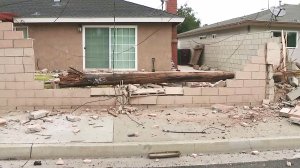 Police received a call at 10:22 p.m. reporting a man brandishing a firearm at a restaurant on McFadden Avenue, said Santa Ana Police Department Cpl. Anthony Bertagna.
Officers spotted a vehicle matching the description given by the caller at South Standard and East Warner avenues and attempted to stop it, but the driver fled, Bertagna said.
Police lost sight of the vehicle after speeds topped 80 mph as it traveled westbound on Warner Avenue, Bertagna said.
A short time later, officers came across the scene of a crash involving the same vehicle, which had apparently crashed into a light pole on Warner Avenue and then careened into a brick wall surrounding the back yard of a home in the 1700 block of West Pendleton Avenue.
The driver, later identified by police as 43-year-old Juan Rodriguez of Costa Mesa, died at the scene, Bertagna said.
Official also noticed a 9-year-old girl trapped in the back seat of the vehicle.
Orange County Fire Authority personnel at the scene rescued the girl from the vehicle, despite live wires "flopping around" at the scene, Bertagna said.
The girl was transported to Children's Hospital Orange County in critical condition and was later listed as stable.
Inside the vehicle, investigators discovered $13,000 in cash, a loaded gun and half a pound to a pound of narcotics, Bertagna said.
The driver was wanted on three outstanding warrants for narcotics sales, Bertagna said.