This is an archived article and the information in the article may be outdated. Please look at the time stamp on the story to see when it was last updated.
A father accused of leaving his baby girl in a parked car outside a North Hills strip club so he could buy lap dances has been charged with child abuse.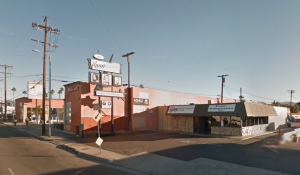 Auwin Dargin, 24, of Van Nuys pleaded not guilty Monday to one count of child abuse and now faces up to six years in state prison if convicted, according to the Los Angeles County District Attorney's Office.
Dargin allegedly locked his 9-month-old girl in the car and left her in the parking lot of the Synn Gentlemen's Club on Sepulveda Boulevard for roughly an hour in the middle of the afternoon on March 9.
Matthew Nadeau, the assistant manager at the club, told the Los Angeles Times he became suspicious after seeing one of his patrons leave and re-enter the club every 15 minutes.
He went to investigate and says he heard the child's cries coming from inside the vehicle about 2 p.m.
Nadeau and employees from a neighboring business worked to free the infant by unlocking the door through a small gap in the window. A waitress got water for the little girl, who felt warm and appeared upset, Nadeau said.
Nadeau then alerted his manager, who he said went inside to locate the child's father and found Dargin in the middle of a lap dance.
"Just give me my baby and I know I am messing up," Dargin said, according to Nadeau.
When Nadeau refused to hand over the infant, however, Dargin allegedly ran out of the club, abandoning his daughter.
Los Angeles police arrested him as he was leaving.
The DA's office announced the charges against Dargin in a news release issued Tuesday.