This is an archived article and the information in the article may be outdated. Please look at the time stamp on the story to see when it was last updated.
The parents of a 2-year-old Pasadena girl who was diagnosed with an aggressive form of leukemia have renewed their call for help in the search for a bone marrow donor, after stem cells taken from the girl's father did not match.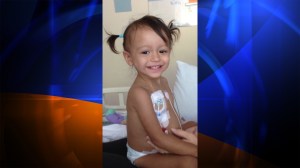 The latest in a series of donor drives was held Saturday at Orchard Supply Hardware, located at 3425 E. Colorado Blvd. in Pasadena.
Sofia Flores' story first came to light in October 2013 when her parents asked for help in finding a bone marrow donor for their daughter.
Sofia needed a marrow transplant to combat acute myeloid leukemia, according to A3M, a Los Angeles nonprofit that is helping Sofia's parents seek a match for the little girl.
However, after an extensive search, no match was found.
On Jan. 23, her father donated his stem cells to her, which was the only alternative available at the time, according to Erica Westfall, Sofia's mother.
But the treatment was not successful and Sofia's cancer relapsed.
Sofia's last chance for survival would be a transplant from an unrelated donor in the next two months, according to her mother.
"We've been searching for a bone marrow match even harder because this is her last chance," her father Ignacio Flores said in a video released to news media on Monday.
Sofia has not found a donor through the Be the Match registry, in part because her mixed-race ethnicity makes it difficult to find a compatible donor, according to A3M. Sofia is half white and half Mexican.
"Our only hope is a bone marrow transplant. There's no way that chemo or any other drug can save her life," Westfall said in the video.
A3M has organized several drives in the coming weeks. Donors can register to help Sophia and others like her at the drives or online at A3MHope.org,
A3M is operated by the National Marrow Donor Program and helps to recruit donors for Be The Match, according to their website.
Donors should be between the ages of 18 and 44 and be in generally good health. Donors must also be willing to donate to any patient searching the registry, according to a news release from A3M.
See map below for donor drive dates and times.
[protected-iframe id="015ba71a83c851e557170dd12b5d5b93-41641936-41845117″ info="https://mapsengine.google.com/map/embed?mid=zafNdLMmSCCc.kzT3FR-ekTwE" width="640″ height="480″]