This is an archived article and the information in the article may be outdated. Please look at the time stamp on the story to see when it was last updated.
A husband and father of five young boys remains hospitalized and in a coma after he was hit by a car Sunday night while riding his mountain bike in Laguna Niguel.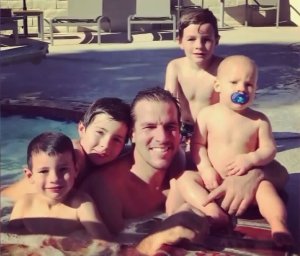 Steve Schenkenberger, of San Juan Capistrano, was struck by a hit-and-run driver around 8 p.m. near Niguel and Ridgeway Avenue. A family friend told KTLA Schenkenberger suffered broken bones in his arm, underwent brain surgery and has not regained consciousness since the crash.
Schenkenberger, a father to five sons ranging in age from 3-months to 9-years-old, also had a piece of his skull removed where he had a blood clot to relieve pressure, friends said.
A neighbor who told KTLA he would often see Schenkenberger on his bike around the neighborhood, urged the driver to come forward and do the right thing.
A Plumfund page has been established to help pay for Schenkenberger's medical bills.
Friends are also asking for prayers.
Anyone with information about the crash is asked to call the Orange County Sheriff's Department at 800-782-7463.