This is an archived article and the information in the article may be outdated. Please look at the time stamp on the story to see when it was last updated.
The father of a 15-year-old boy who stowed away in the wheel-well of a Hawaii-bound plane "thanked God" his son survived the ordeal, saying the boy may have been trying to return to Africa, according to the Voice of America.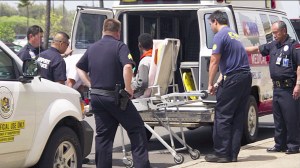 "When I watched the analysis about the extraordinary and dangerous trip of my son on local TVs and that Allah had saved him, I thanked God and I was very happy," Abdilahi Yusuf Abdi, of Santa Clara, told VOA's Somali service in an interview Wednesday.
Officials said the boy was unconscious during much of the flight, waking up only after the Boeing 767 touched down at Kahului Airport. Workers there spotted him walking on the tarmac.
The father identified his son to VOA as Yahya Abdi. He remained in custody of Hawaii child welfare services workers. The father said he first received the news in a phone call from the Hawaii Police Department.