This is an archived article and the information in the article may be outdated. Please look at the time stamp on the story to see when it was last updated.
Authorities on Monday identified a father and son who were fatally shot in Valencia the previous night.
Gary Hunt, 53, and Joshua Hunt, 23, died in the shooting, which occurred in the 28700 block of Iron Village Drive, according to a news release from the Los Angeles County Sheriff's Department.
Deputies discovered the two men after responding to a call of "gunshots fired" shortly after 8:10 p.m. Sunday, the release stated.
Gary Hunt was found to be suffering from multiple gunshot wounds to the upper torso, while his son was discovered with a single gunshot wound to the head, sheriff's officials said in the release.
Both men were pronounced dead after being taken to a hospital.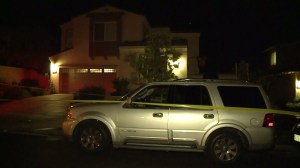 An investigation into the shooting was ongoing, but detectives said that the father and son had been involved in a dispute prior to the fatal gunshots. A handgun was recovered at the residence, where both men lived.
Anyone with information about the incident was urged to call the sheriff's Homicide Bureau at 323-890-5500. Anonymous tips can also be left by calling Crime Stoppers at 800-222-8477.