This is an archived article and the information in the article may be outdated. Please look at the time stamp on the story to see when it was last updated.
A father and son were killed when a fire broke out in an apartment building in Port Hueneme Friday morning.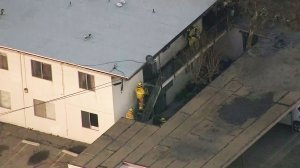 The fire was reported at an eight-unit, two-story building in the 200 block of East C Street at about 4:10 a.m., Ventura County Fire Department information officer Steve Swindle said.
Fire crews found an upstairs corner apartment well involved with flames when they arrived, Swindle said.
"Out bedroom window faces that apartment and our window was all red so we opened the blinds," said Jim Brogran, a neighbor. "We saw the flames. They were big, they were engulfed. Probably 12-foot, probably."
A man, about 25-years-old, and his son were found inside the building just a few feet from the front door, fire officials said.
"Why they got trapped we don't know," Swindle said.
The father and son both died at the scene.
A 25-year-old woman and her daughter managed to make it out of the building and were OK, Swindle said.
"I jumped up, saw the flames and I heard a lady screaming for help," said Melissa Brogan, a neighbor. "I just ran out, started knocking on the neighbor's doors, ran to the back side of the apartment and realized I couldn't do anything."
They were both "extremely distraught," Swindle said. "It's really just horrendously tragic that they lost the members of their family."
Crews contained the fire to the one apartment and had the blaze knocked down in about 15 minutes, Swindle said.
The cause of the fire is under investigation.
A GoFundMe page has been set up to help to the victims' family cover the cost of a double funeral.
KTLA's Geoff Peters contributed to this report.