This is an archived article and the information in the article may be outdated. Please look at the time stamp on the story to see when it was last updated.
The missing father named a person of interest in the death of his 8-month-old daughter, whose body was found behind a mortuary in Bellflower on Memorial Day, surrendered to authorities at the U.S.-Mexico border Monday, officials said.
Alexander Echeverria, 22, was met by the FBI as he crossed back into the U.S. from Mexico at the San Ysidro crossing with an attorney, Sacramento County Sheriff's Sgt. James Wilcox said.
Wilcox said Echeverria was "cooperative" and taken into custody "on charges related to the death of his daughter."
Inmate records show the father was booked in San Diego at about 2:50 p.m. on suspicion of first-degree murder and assault on a child causing great bodily injury.
Echeverria was also wanted on a separate arrest warrant, several months old, involving a domestic violence case in Sacramento County, according to Wilcox. The sergeant declined to say whether that case involves the baby's mother.
Investigators had been searching for Echeverria since May 27, when he and his daughter, Alexia Rose Echeverria, were reported missing by family members.
That same day, Alexia's body was found in a car seat, covered by a blanket and left behind Funeraria del Angel at 10333 Alondra Blvd.
The father hadn't been seen until he turned himself in at the international border.
Detectives believe Alexia died in Sacramento, where her family resides, before being transported to Southern California, sheriff's officials in Los Angeles County have said.
Karla Alvarado, the baby's mother, told KTLA sister station KTXL in Sacramento that she last saw Echeverria when he dropped her off at work in Sacramento around 11 a.m. May 26. She last saw Alexia when she FaceTimed with Echeverria an hour later, she added.
The mother alleged that Echeverria called his brother the next day and said their daughter died after he accidentally dropped her.
"He told him that he was playing with her — throwing her up — and he slipped, and she fell. And she wasn't waking up," Alvarado told KTXL. "He said he got scared and he drove to the hospital, but he never went in because he thought that nobody was going to believe him that it was an accident."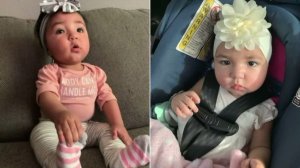 Wilcox wouldn't say whether Echeverria had made similar statements to authorities when he turned himself in.
"It's an ongoing investigation, so we are going to keep a lot of the details close to the vest," he said.
Alvarado said Echeverria had told her he was taking their daughter to Bakersfield and they would return Monday morning, but never showed up. When the father was listed as missing, officials noted he was "considered at-risk due to suicidal statements made to family members recently."
Shortly after 10 a.m. May 27, a worker at the Bellflower mortuary found Alexia's body while cleaning up the grounds and promptly called 911, investigators said.
Alvarado said she "can't believe that he would just leave her there."
"She wasn't trash, she wasn't a doll," the mother said. "She was my little girl."
Coroner's officials have not revealed the girl's cause of death, and it's still unclear how long her body had been there.
At this point, investigators are only willing to reveal that autopsy results show "it does not appear that Alexia's death was natural," Wilcox said.
Authorities previously said Alexia's body showed no obvious signs of trauma when it was discovered.
Echeverria will eventually be transferred to a jail facility in Sacramento County, but transportation arrangements have yet to be made, according to Wilcox.