This is an archived article and the information in the article may be outdated. Please look at the time stamp on the story to see when it was last updated.
The massive Thomas Fire is now the second-largest California wildfire on record, as it reaches 55 percent containment while continuing to burn into a third week across Ventura and Santa Barbara counties on Tuesday.
Thousands remain evacuated from their homes ahead of the Christmas holiday. The stubborn blaze has been half contained since Monday and burned 750 acres overnight — slowing its usual pace — to cover 272,000 acres by Tuesday evening, Cal Fire said. It is second in size only to 2003's Cedar Fire in San Diego, which charred 273,246 acres.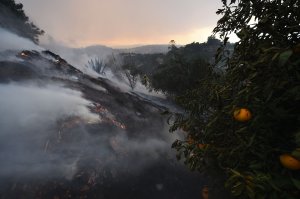 Rising humidity hindered the flame's spread overnight, allowing firefighters to reinforce containment lines and put out hotspots. Fire crews also made "good progress" during the day Monday with winds dissipating, said Mark Brown,operations section chief for Cal Fire.
"It's nice to have a couple of days in a row where we've had good progress," Brown said. "The weather conditions were just right for us; the winds were blowing into the fire."
However, the powerful gusts that are blamed for fanning the flames thus far are expected to return by Wednesday, with some wind picking up Tuesday afternoon, and humidity is expected to rise, according to Cal Fire and the National Weather Service (NWS). Officials are warning that those could shift northeast and turn into Santa Ana winds over Ventura County by Thursday or Friday, the Los Angeles Times reported.
And, despite positive developments with wind and humidity, hillside chaparral across the region remains "critically dry," Cal Fire said. NWS expects there will be no rain in the area for the rest of the year.
More than 8,200 firefighters are still battling the blaze, which they do next expect to be fully contained until next year, around Jan. 7. The firefight so far has cost $140 million, according to Cal Fire.
Two people, a firefighter from San Diego and a Santa Paula resident, have been killed in the fire.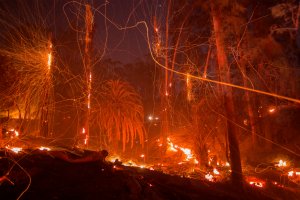 For a second week, 18,000 structures are under threat, firefighters said. Evacuations orders mainly affect those in Santa Barbara County — where animals have even been evacuated from the Santa Barbara Zoo — though some in Ventura County persist.
The Thomas Fire also is the states' third-most destructive in structure losses and has razed more than 1,000 buildings, at least 765 of them homes, and damaged hundreds more.
Fire crews on Tuesday would be focusing their resources on extinguishing hotspots and strengthening containment lines in Montecito and the Gibralter Road area of Santa Barbara. Firefighters would also be working in the hills north of Camino Cielo to establish a fire line and push forward progress into the burn area from the Zaca Fire that scorched 240,207 acres in 2007.
Officials warned that hotspots also remain active in the Ojai Valley area, where a small tree line fire broke out Monday night, but said the threat to Fillmore has decreased.
On the wildfire's north and east flanks, flames are moving further into the Matilija and Sespe wilderness reserves and toward the Sespe Condor Sanctuary.
To date, it has burned an area larger than New York City, Washington D.C. and San Francisco combined -- and is larger than any city in California except Los Angeles.
For more information on evacuations and road closures, visit CountyofSB.org or ReadyVenturaCounty.org.
Correction: A previous version of this story incorrectly stated the Thomas Fire was the second largest wildfire on record in California prior to the acreage being updated Tuesday evening. This story has been updated. 
Gusty N winds expected in the wake of a trough crossing the area Wed. Sundowner winds Wed night into Thu morning may create critical fire conditions for southern Santa Barbara Co. and the #ThomasFire. #CAwx #CAfire pic.twitter.com/ExHxu6oB9s

— NWS Los Angeles (@NWSLosAngeles) December 19, 2017
Q: What do I do if I need help evacuating from the Thomas Fire?
A: If you need assistance evacuating from your home, transportation assistance is available. Call the #ThomasFire information line at (805) 681-5542 to request transportation assistance.

— Santa Barbara County (@countyofsb) December 19, 2017
Q: Who can I contact if I am experiencing emotional distress due to the #ThomasFire?
A: If you are in crisis, call #SantaBarbaraCounty's Department of Behavioral Wellness 24/7 Access Line at +1 (888) 868-1649 📞

— Santa Barbara County (@countyofsb) December 19, 2017