This is an archived article and the information in the article may be outdated. Please look at the time stamp on the story to see when it was last updated.
An FBI agent was wounded and a homicide suspect was fatally shot during a police shooting in South L.A. Tuesday morning, Los Angeles Police Department officials said.
The shooting occurred about 11 a.m. at the Central Inn Motel in the 4000 block of South Central Avenue in the  Historic South-Central neighborhood, Detective Meghan Aguilar said. LAPD officers and an FBI agent in a gang and narcotics task force were looking for a man wanted in connection with a homicide that occurred on July 31.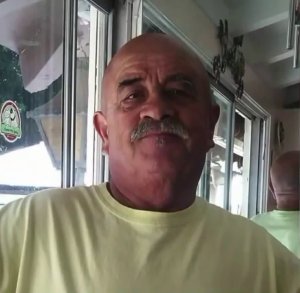 Based on the evidence, the preliminary investigation has revealed that the suspect fired a gun at officers as they approached the motel, prompting law enforcement officials to return fire, the detective said.
The suspect, identified as 70-year-old Danny Valdez, died at the scene.
The FBI agent was shot in the hand and taken to a hospital with non-life threatening injuries. The agent was believed to have been struck by gunfire from the suspect, Aguilar stated.
The agent, whose name has not been released, was out of surgery and in good spirits alongside family Tuesday night, officials said.
Valdez was wanted on suspicion of fatally shooting a relative and wounding another man during a dispute last month in the Central-Alameda neighborhood.
The victim killed was identified by family as 42-year-old Jason Ruelas, who leaves behind a wife and 9-year-old son.
Valdez was Ruelas' deceased father's cousin, according to victim's mother, Gloria Ruelas. She said her son had let Valdez stay at his shop South L.A. when Valdez fell on hard times.
"I was a little on edge for this week, knowing that he was out there," she told KTLA via phone. "So in a sense yes, I am glad that they did get him."
She said her son decided to let Valdez stay because he remembered how good Valdez had been to him and his two brothers growing up, and he thought this is what his father would have wanted him to do.
"He offered him a place to stay temporarily until he was able to save enough money" to get a his own place, Gloria said.
But Gloria said Valdez became very messy, which was a problem since he was staying in the shop's office area.
"My son bought him a trailer, put it on the lot, and told him this is where you can live for a while, until you're good," she said. "But then he refused to be in the trailer. He wanted to be in the office."
On July 31, Jason told Valdez he had to go. Gloria claims Valdez contacted police and attempted to claim squatters' rights, but police responded to the shop and ordered him to leave.
Around 4 p.m. that afternoon, Valdez returned with a gun and shot and killed Jason, according to police.
The other man wounded was a friend of Jason's. At the time, police said he was hospitalized with multiple gunshot wounds.
Tuesday morning's officer-involved shooting made for some tense moments in the area. Eduardo Camacho told KTLA he heard three shots and described the scene as "chaotic" and "hectic."
It is unclear how many LAPD officers fired their weapons or if they were wearing body cameras. The detective revealed that officers were in plain clothes.
Authorities continued interviewing the officers and agent involved in the shooting incident. They were also collecting evidence, including the suspect's gun, and speaking with witnesses, according to Aguilar, who stressed that the investigation was in the beginning stages.
The FBI also sent resources and personnel to aid in the investigation.
KTLA's Juan Flores and Erika Martin contributed to this story.