This is an archived article and the information in the article may be outdated. Please look at the time stamp on the story to see when it was last updated.
Authorities Thursday asked for the public's help in identifying a group of bank robbers, dubbed the "Two Guys and a Girl Bandits," who struck twice in the South Bay in December.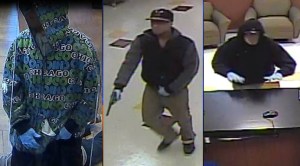 The nickname is based on descriptions from witnesses at one of the banks who said the robbers were two men and a woman, according to a news release from the Federal Bureau of Investigation's Los Angeles Office.
The trio, "whose members may vary in terms of suspects entering the bank," has been linked to robberies on December 12 and 30, the release said.
The first incident occurred at the Wells Fargo Bank at 28350 South Western Avenue in Rancho Palos Verdes (map). The second happened at CalCom FCU at 20723 Hawthorne Boulevard in Torrance (map).
During the Palos Verdes robbery, three armed people entered the bank and ordered everyone to get down on the floor. The robbers demanded cash, then fled in a stolen white sedan, the FBI said.
Eighteen days later, in the Torrance robbery, the three armed robbers — one of who fired a round into the ceiling — again demanded cash and ordered everyone to the floor, the bureau said. They then drove away in a stolen blue sedan.
Police later recovered both vehicles.
The "Two Guys and a Girl Bandits" are described as wearing casual clothing and nylon stockings over their faces. One of them wore an Oakland Raiders cap during the Dec. 12 incident; another wore a Chicago Bulls cap in the Dec. 30 holdup.
A multi-agency investigation is being conducted by the FBI, Los Angeles County Sheriff's Department and Torrance Police Department.
Anyone with information is urged to call 911 or their nearest FBI office.